SO MUCH TO DO, SEE & EXPLORE
Mesa Verde Country has no shortage or things to do, see and explore from several archaeological and cultural sites to thrilling outdoor activities to art galleries and beyond. Not to mention the Ute Mountain Casino and Four Corner's Monument nearby.
A fantastic day trip, Four Corner's Monument brings visitors from around the world together, and though many are just passing through this unique area it's a site worth seeing. And should you have the itch to double down and win big the Ute Mountain Casino offers a wonderful respite from the great outdoors including dining and entertainment.
Explore these Mesa Vere attractions and more on your next trip to the area. Start planning your trip today.
Four Corners National Monument
If you're up for a fun family adventure in Mesa Verde Country that no other attraction in the US offers, plan to take a trip to Four Corners National Monument. The monument marks the spot where Colorado, Utah, Arizona, and New Mexico touch, and it's the only place like it in the entire USA.
What makes this place so special and unique is that you can be in four places at once! You heard right, the monument lets you stand in four states all at once, albeit with a little maneuvering – like crouching on all fours but it can be done!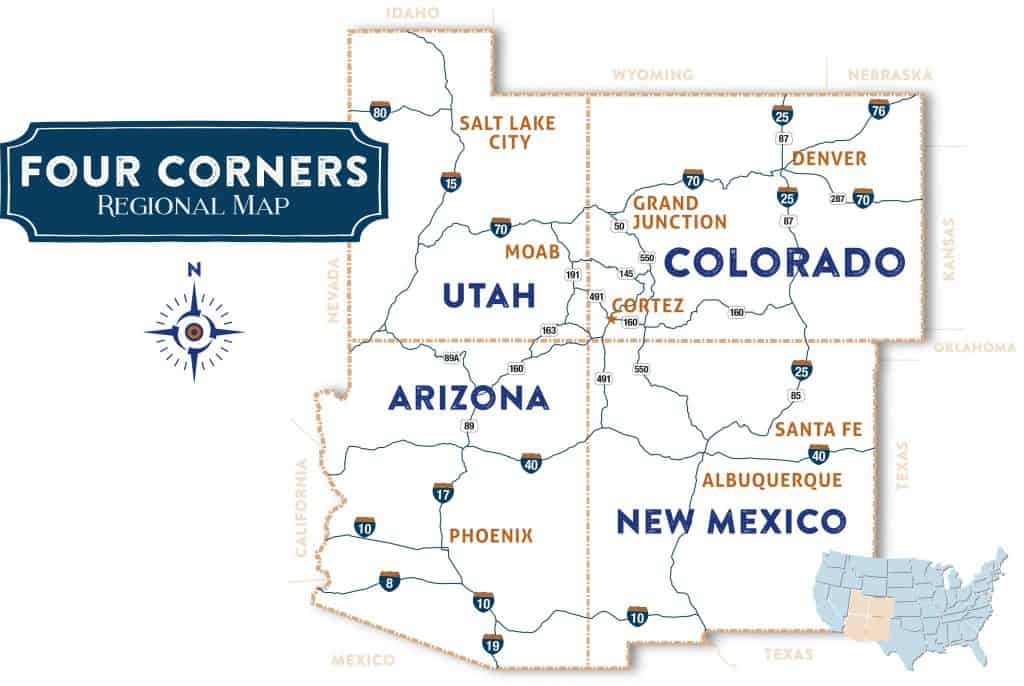 Besides the chance to get pictures of you and each of your family members occupying a different state – together – there are also many vendors on-site year-round, selling Navajo and Ute tribal arts and crafts, as well as plenty of food trucks serving local Navajo and Ute tribal cuisine.
WHERE IS THE FOUR CORNERS MONUMENT?
Approximately 44 miles due south from Cortez, Four Corners Monument is isolated, so be sure to plan ahead for a safe, fun-filled visit.
Note that there is no running water at the site, so plan to bring plenty of bottled water with you – since you'll be out in the arid desert climate for a while. You'll want to be sure to keep yourself and the rest of the family well hydrated not mention fueled.
Where To Eat Near Four Corners Monument?
If you like Native American recipes or are up to trying new dishes and local food, on-site vendors sell Navajo burgers and tacos, which are made with Navajo fry bread rather than shells or buns. Or why not try Ute tribal cuisine? Or plan to bring a picnic lunch – there are plenty of picnic tables available around the monument!
Other Things To Do Near Four Corners
While the fun of the Four Corners Monument is certainly unique, it's the drive through the beautiful desert that makes this day trip truly a pleasure. As you leave Cortez and drive south to the Four Corners, you'll see endless pumpkin-colored sandstone and rock formations, dotted with sagebrush, pinion, and juniper trees, beneath a stunning blue sky. The landscape makes it easy to imagine Ancestral Puebloans traveling similar paths thousands of years ago, to eventually settle in any of the hundreds of cliff dwellings and pueblos in and around Mesa Verde Country.
In order to really take in the Four Corners experience, make sure you book lodging nearby in Cortez, Dolores or Mancos to serve as your base camp for this fantastic day trip, so you can relax and prepare to take in another day in Mesa Verde Country.
Ute Mountain Casino

TRY YOUR LUCK AT UTE MOUNTAIN CASINO
Ute Mountain Casino is an adult's playground with great entertainment options for rest, relaxation and fun! Offering guests table games, slot machines, and Bingo, you can try your luck in beautiful Mesa Verde. Complete with on-site dining and lodging accommodations and RV Park Ute Mountain Casino is a stone throw from many area attractions including Mesa Verde National Park and world-famous archaeological sites.
Casino Events: Annual celebrations at Ute Mountain Casino include Fourth of July Fireworks, Pow Wow, and a New Year's Eve Celebration!
Dining Options: From snack options to sit down and buffet, Ute Mountain has a variety of cuisines to please your taste buds.
Lodging Accommodations: Complete with great amenities and features, rooms at Ute Mountain Casino come complete with breathtaking balcony views, indoor pool, jacuzzi, sauna, fitness center and much more!
Plan your Ute Mountain Casino trip today, a great home base for exploring the area, why not end your adventurous days with entertaining evenings!
---