Located in beautiful Southwest Colorado, Mesa Verde Country is within easy driving distance of several gateway cities, including Denver, Albuquerque, Salt Lake, Phoenix and Las Vegas. The scenic drive takes you through the beautiful scenery of Southern Colorado. See below for driving directions to Mesa Verde National Park.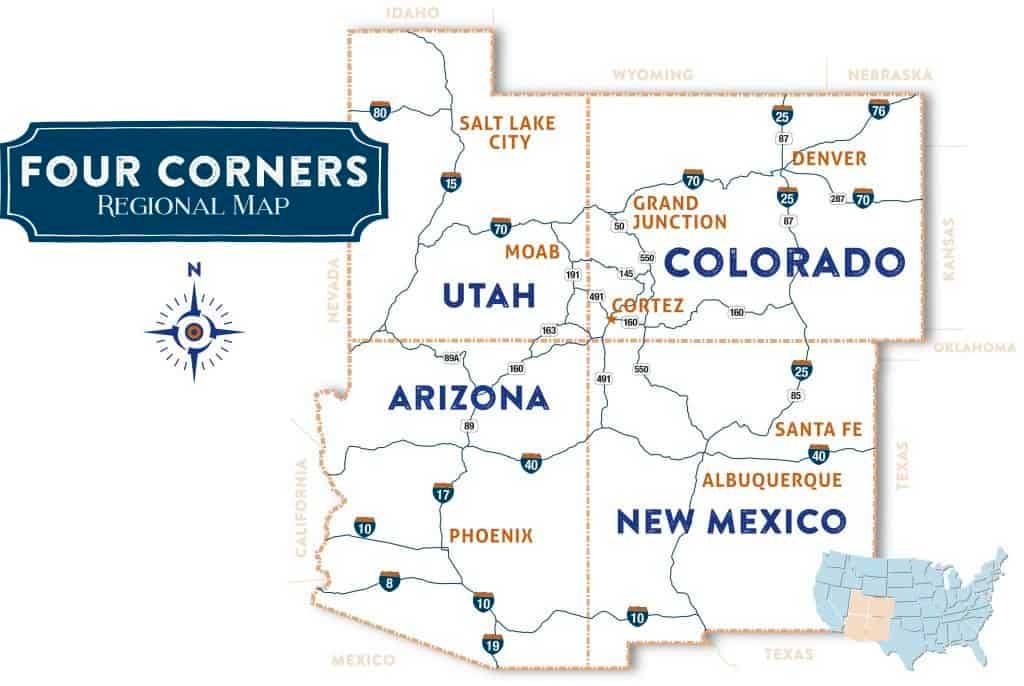 Mesa Verde Country is the perfect location for a great American road trip. It is home to Trail of the Ancients National Scenic Byway, the only byway dedicated solely to archaeology. Trail of the Ancients transverses the spectacular landscapes of Mesa Verde Country— but be sure to get out of the car and enjoy all the incredible archaeology the byway has to offer!
Mesa Verde Country is part of The Grand Circle, America's largest concentration of National Parks. Visit the Grand Circle website for more information. To help plan your next southwestern vacation, visit our Things to Do page for itinerary suggestions indoors as well as outdoors!
From car rentals to boarding kennels, we're here to help. You'll find helpful resources listed below, as well as our Visitor Centers in the event that you need other information.
DRIVING DIRECTIONS TO MESA VERDE
| FROM CORTEZ TO: | MILES | HRS |
| --- | --- | --- |
| Albuquerque, New Mexico | 252 | 5.5 |
| Denver, Colorado | 380 | 8.0 |
| Flagstaff, Arizona | 267 | 5.0 |
| Grand Canyon – South Rim | 368 | 6.5 |
| Grand Canyon – North Rim | 340 | 7.5 |
| Grand Junction, Colorado | 204 | 4.0 |
| Page (Lake Powell), Arizona | 211 | 4.5 |
| Phoenix, Arizona | 404 | 8.5 |
| Salt Lake City, Utah | 356 | 7.0 |
| Telluride, Colorado | 78 | 1.5 |
| El Paso, Texas | 528 | 9.5 |
| Los Angeles, California | 730 | 13.0 |
FROM THE NORTHWEST
1. Take US-491 S
2. Turn left onto W Empire St for 2 miles
3. Turn right onto State St for .2 miles
4. Turn left onto US-160 E for 8 miles
5. Take the exit toward Mesa Verde National Park from US-160 W
6. Turn left onto Mesa Top Ruins Rd in Montezuma County
FROM THE EAST
1. Take US-160 W
2. Take the exit toward Mesa Verde National Park from US-160 W
3. Turn left onto Mesa Top Ruins Rd in Montezuma County
FROM THE SOUTH
1. Take US-491 N
2. Keep right to continue on US-160 E/W Main St, follow signs for I-160
3. Take the exit toward Mesa Verde National Park from US-160 W
4. Turn left onto Mesa Top Ruins Rd in Montezuma County
WHAT IS THE NEAREST AIRPORT TO MESA VERDE?
The closest airport to Mesa Verde is the Cortez, CO (CEZ) airport. There are affordable daily flights connecting Cortez (CEZ) to Denver International Airport (DEN) if you prefer to fly.
Air service to Cortez is available from Denver and Phoenix, with daily flights on Boutique Air. To book your reservations, use the destination abbreviation of CEZ. Car rental services are located at the airport and in Cortez. Taxi service is also available. Train service is available to Gallup, New Mexico (136 miles from Cortez), with rental cars available in Gallup.
TRANSPORTATION AROUND MESA VERDE
A vehicle is needed to explore Mesa Verde National Park. If you plan on flying in, you can rent a vehicle from many different companies when you land at the Cortez airport. You can also travel by bike or join an Aramark Tour if you are planning to bring an RV or do not have a car. Visit the National Park Service website for additional information on travel restrictions and getting around the park.
Disabled persons have a number of opportunities to visit attractions. Mesa Verde National Park has several accessible facilities, but only Spruce Tree House is wheelchair accessible with some assistance. The Canyons of the Ancients Visitor Center and Museum and the Cortez Cultural Center are fully accessible to wheelchairs. The San Juan National Forest has developed many accessible facilities. For up-to-date information, contact the Forest Service Office at (970) 882-7296.
WHEN TO VISIT MESA VERDE IN COLORADO
Check the current Mesa Verde weather forecast using our weather widget below. If you are planning ahead for your vacation, be sure to read our tips and information on seasonal weather in Mesa Verde County and when to visit below!
If you want to take a step into the past and learn more about the history of one of America's oldest cultures, Mesa Verde Country in Colorado is the perfect destination for you. Mesa Verde Country, situated in Southwest Colorado is within driving distance to several cities like Salt Lake, Las Vegas, and Denver.
Cortez which is nestled between Sleeping Ute Mountain, La Plata Mountains, and the silhouette of Mesa Verde, is considered the archaeological and cultural hub of Colorado. Eight miles from it is the Mesa Verde National Park which houses over 5,000 archeological sites such as cliffs, masonry towers, pueblos and pit houses. The Park is a wonder to visit during the warmer months. Always ensure you do your research before booking and embarking on your Mesa Verde vacation as some areas may be closed during winter for safety reasons.
VISITING MESA VERDE: WHEN IS THE BEST TIME?
When planning a vacation, it is important to know what the weather will be like at your destination. Mesa Verde's weather is pleasant year-round with hot summers and cold winters. In summer, Mesa Verde can get as hot as 89.6°F (32°C). Cortez's weather is also similar, with sunny and bright summers, making it perfect for hikes.
During winter, Mesa Verde National Park weather stays in the 51.3°F (10.7°C) and 36.7°F (2.6°C) range. However, a snowstorm or two are not out of the ordinary during this time which makes it essential for you to check the weather forecast before planning your stay.
No matter the season, there are plenty of things for you to do in Mesa Verde. Apart from a rich history, Mesa Verde also offers many outdoor activities which make it such a popular destination during the warmer seasons:
Biking
Bird watching
Fishing
Golfing
Boating
Rafting
Horseback riding
Hunting
Discovering wildflowers
Guided adventures
If you're visiting in the winter, most archeological sites in Mesa Verde National Park and Cortez may be closed but you can still spend your time snowmobiling, winter hiking, and skiing on their trails.
WHAT TO PACK FOR YOUR MESA VERDE VACATION
Whether you are a seasoned traveler or a first-time visitor, it is important to plan and prepare in advance for your holiday. Take some time to make sure you have packed everything you need to have a safe and fun vacation.
Here is a list of a few essential items you should consider packing for your Mesa Verde trip:
Backpack
Hiking boots/shoes
Swimwear
Camera
Chargers for electronic devices
Sunscreen
First aid kit
Activewear
Light jacket/sweater
Party wear and evening wear
Sunglasses
Hat
If you're visiting Mesa Verde during the winter, you should also pack:
Winter jacket and sweaters
Snow boots
Gloves/mittens and scarves
Start planning your vacation to Mesa Verde Country with our free travel planner.