Founded in 1894, Mancos is where the West still lives! It's a place where modern day travelers and locals navigate amongst cattle drives and cowboys. If you time your visit just right, you may even see stagecoaches and horse draw carriages! No wonder Louis L'Amour gave the Mancos Valley a special place in his heart and novels.
Where the west still lives
Grand Avenue is lined with historic buildings that currently house famous restaurants like farm-to-table Olio, Missy's, Absolute Bakery and Café and the Columbine Bar and Grill, one of the oldest continuously operating bars in Colorado.
Grand is also home to numerous galleries where our vast artisan community sell their unique creations. Don't miss Kilgore American Indian Art, Raven House Gallery, Artisans of Mancos and The Painted Turtle.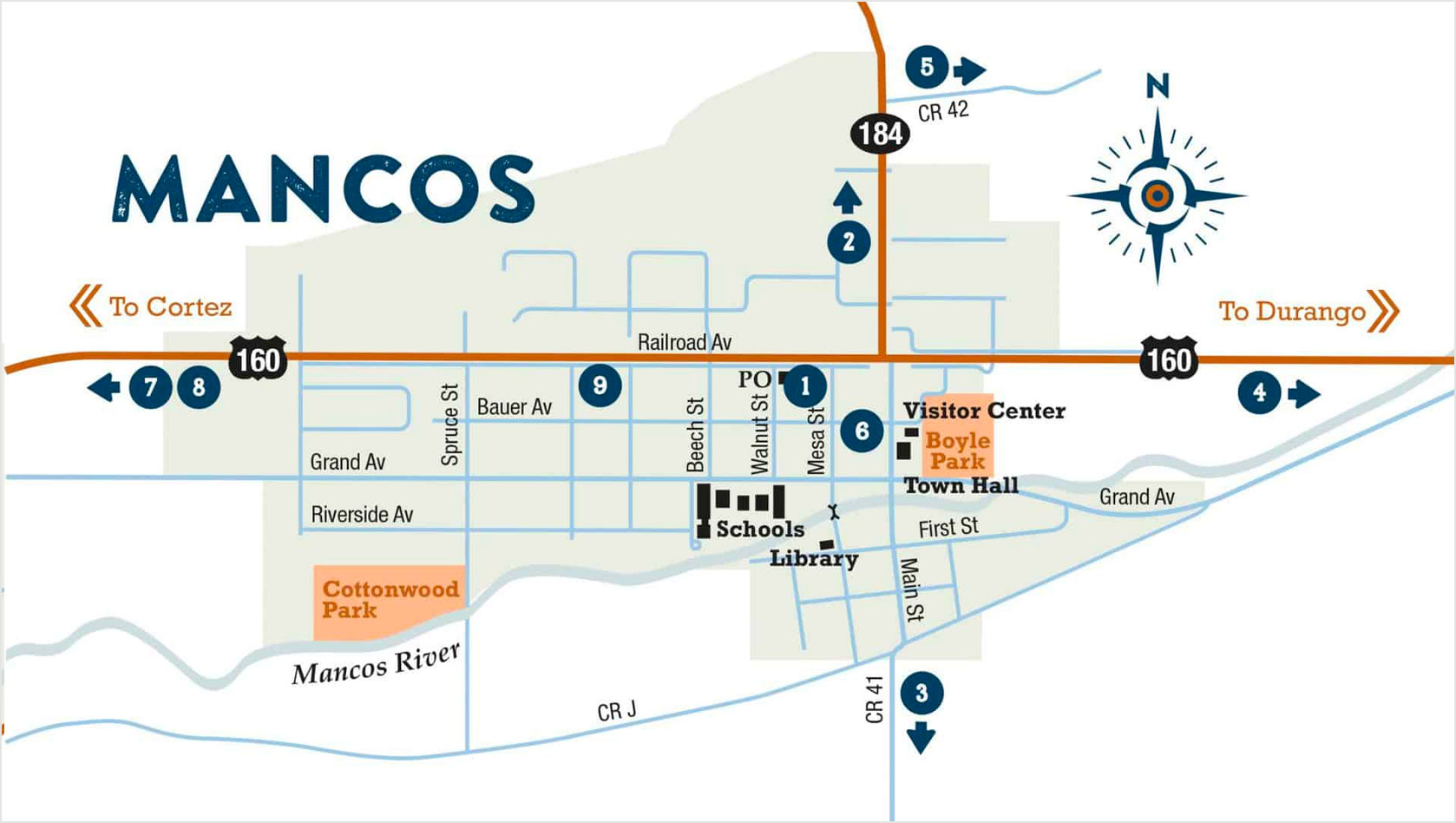 Mancos Creative District spans several blocks in the historic downtown and is home to the historic Opera House and the thriving Mancos Common Press. They sponsor the annual BurroFest, a unique event that combines the antics of burros and their handlers with interactive art.
You'll also find many lodging options in Mancos. Whether you're looking for the luxury and comfort of a mountain lodge, a simple motel room for the whole family or a place to park your RV, Mancos has it all! Check out Starry Nights Ranch Bed and Breakfast, Willowtail Springs, Mesa Verde Motel, Mancos Inn, Ms. Kitty's Country Inn, Hobo Hideout, Riverwood RV Resort and Cortez-Mesa Verde KOA.
Mancos is the perfect home base for all the recreational activities Southwest Colorado has to offer. At mancostrails.org, you'll find the perfect local trail for hiking, biking, horseback riding or cross-country skiing. Horseback rides and wilderness trips are available with local wranglers like Rimrock Outfitters and Mesa Verde Stables.
With a main street parade, cider and beer tastings at Fenceline Cider and Mancos Brewing Company, live music, food trucks, an Olde Fashioned Christmas and more, Mancos is your hometown all year long!
MAIN ATTRACTIONS
Horseback rides
Art galleries
Farmers Market
Fishing
Trail Hiking/Biking
X Country skiing, snowshoeing, snowmobiling
AMENITIES & SERVICES
Lodging/Camping/RV/B&B's
Shops
Restaurants
Galleries
Gas Station
Liquor
Natural Foods Store
Start planning your vacation to Mesa Verde Country with our free travel planner.