The national parks in Colorado and Utah are bucket list destinations for many travelers, and for good reason! The rugged terrain, inspiring views, rich histories and vibrant communities will create memories for you and your family that will last a lifetime.
We've put together the ultimate 17 day Colorado-Utah national parks road trip itinerary, with an extra stop at Grand Canyon National Park for good measure. Take your time on this road trip of a lifetime, and enjoy immersing yourself in the colorful landscapes and stories of the American Southwest.
While this is the route we recommend, you can always skip or add days as you see fit. If you don't have enough time to see it all, please come and visit again!
Day 1: Denver to Great Sand Dunes National Park [4 hours]
To begin your national parks road trip start in Denver and head south toward Great Sand Dunes National Park and Preserve. Wed recommend taking CO Highway 285 so that you can stop for a short break in Salida. This river-centric little town is the perfect place to stop for lunch (we'd recommend Sweeties for sandwiches or Moonlight Pizza & Brewery for local pizza and beers), do a little shopping in the Creative District, and watch rafters, kayakers, and surfers enjoy the town whitewater park.
After exploring Salida, finish the drive to Great Sand Dunes National Park and Preserve! The NPS here doesn't rent out any sand boards, so you'll need to make a stop before you enter Great Sand Dunes. Just four miles from the Visitor Center, visit Great Sand Dunes Oasis to rent sand boards or sand sleds then head into the park for an afternoon of fun on the dunes! In addition to the sandy fun and hiking found in the park, Great Sand Dunes is an International Dark Sky Park, making it an excellent spot to stargaze. You can camp in the park at Piñon Flats Campground (we'd recommend booking this campsite in advance, as it can fill up quickly), or any of the campsites surrounding the park for maximum stargazing exposure!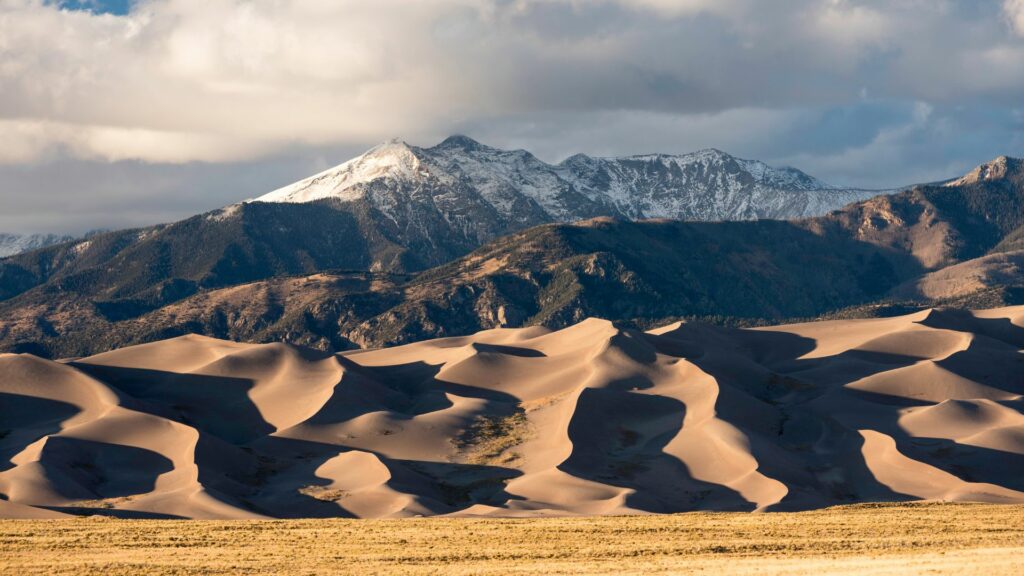 Day 2: Great Sand Dunes National Park to Mesa Verde National Park [4 hours]
On your way to Mesa Verde National Park, stop by Root House in Pagosa Springs for your morning coffee. If you are feeling a little stiff from the day before (too much sand boarding?), take a quick soak in one of the many hot springs right in town. Once you feel refreshed and revived, keep on heading to Mancos. We'd recommend spending a full day in Mesa Verde National Park, so today would be a great day to explore the arts scene in downtown Mancos, grab a local cider at Fenceline Cider or dive into the outdoor recreation surrounding the neighboring town of Dolores. There are so many amazing places to stay in Mesa Verde Country, from historic bed and breakfasts to guest ranches, campgrounds and RV parks. Whatever your lodging preferences are, you'll be sure to find something just right for you.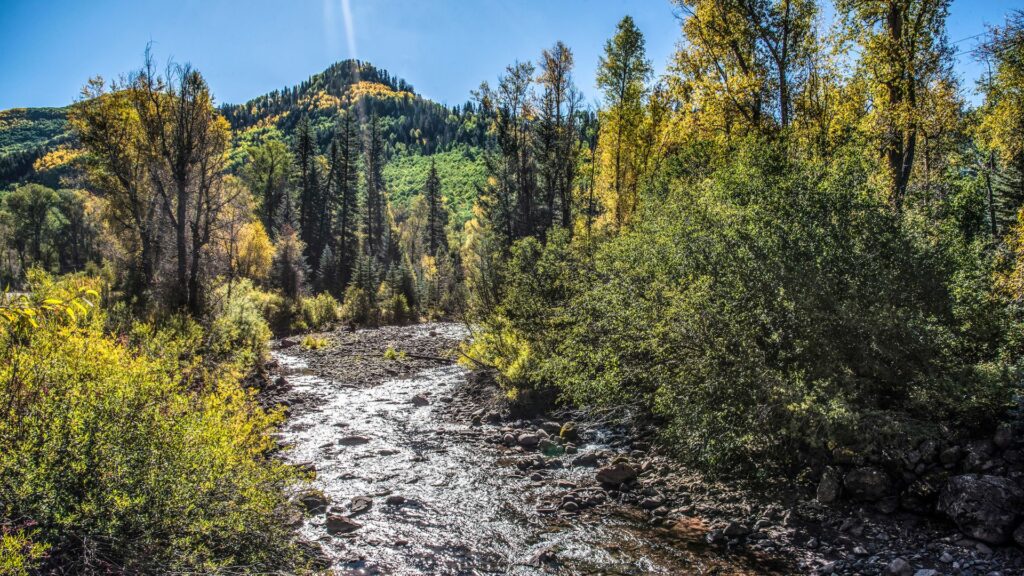 Day 3: Mesa Verde National Park
There's so much to see and do in Mesa Verde National Park, so we'd recommend getting an early start with exploring today! Make sure to stop by the Visitor and Research Center on your way in, grab a map and some insights from park rangers about the Indigenous history that makes this area so special. Mesa Verde is the first national park created to "preserve the works of man", and the cliff dwellings, petroglyphs and other archaeological sites will truly blow your mind! In addition to the incredible living history, this park will wow you with sweeping views, unique interesting wildlife and if you stay late enough, stargazing.
If you are visiting from mid-May to mid-October, we'd highly recommend you take a guided tour of one of the cliff dwellings for the most intimate and hands-on experience! For an adventurous option, we'd recommend touring Balcony House—get ready to climb some ladders, squeeze through tunnels and explore ancient passages. Cliff dwelling tours do fill up quickly, so book in advance! You can reserve your spot 14 days before your visit.
After a day of exploring the Indigenous heritage and history of the park, you'll probably be ready to do a little rest! There are plenty of great spots to stay in the park—if camping is your thing, check out the Morefield Campground, and if you are looking for a comfy mattress and the luxury of sleeping indoors, head to the Far View Lodge for the evening. Either way, be sure to take some time to stargaze in the evening, and enjoy a sky very similar to the one the Ancestral Puebloans gazed up at thousands of years ago. Mesa Verde National Park is a certified International Dark Sky Park, and it sits at the center of the darkest skies remaining in the lower 48. The high elevation, arid climate, sparse population and clear skies will give you a stargazing experience like no other.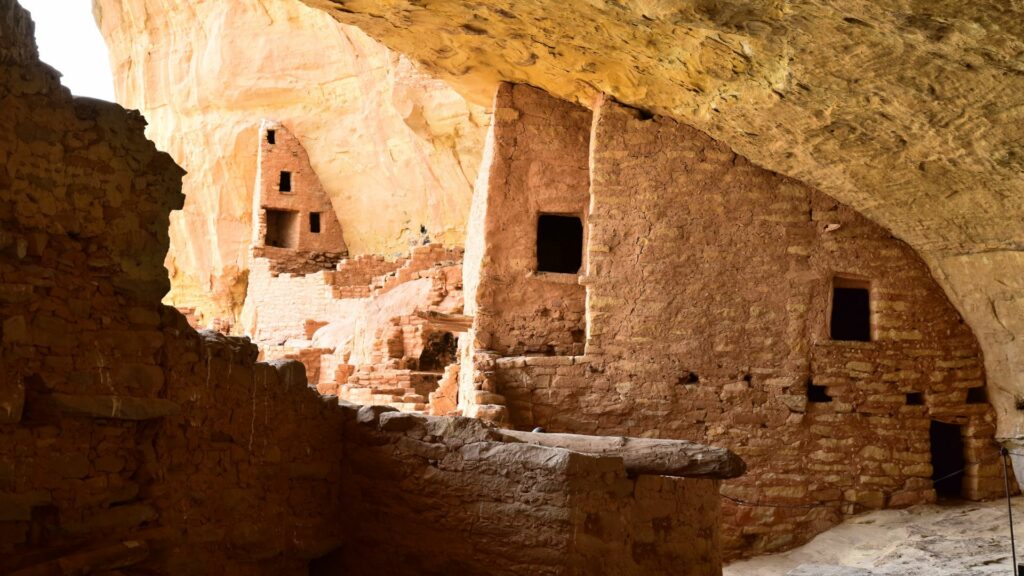 Day 4: Canyons of the Ancients National Monument and Cortez
Mesa Verde National Park is a world-class destination, but don't sleep on the surrounding sites in the area! On day four of your road trip, be sure to check out Canyons of the Ancients National Monument. This rugged landscape contains the highest known density of archaeological sites in the United States, more than 6,000! Stop by the Visitor Center and Museum to begin your day and to get some pointers from the knowledgeable staff. Head to Lowry Pueblo for a family-friendly experience walking through ancient buildings and around sacred kivas, or enjoy a picturesque hike or mountain bike ride in Sand Canyon complete with views of cliff dwellings and Sleeping Ute Mountain.
After a fun-filled day exploring the quieter side of Mesa Verde Country, stop for dinner and a place to sleep in Cortez. The Farm Bistro offers incredible farm-to-table style dining with local meat and produce, and WildEdge Brewing Collective offers delicious and unique local brews. To further dive into the Indigenous heritage in the area, we recommend staying at Ancient Echoes at Kelly Place, a lodge and retreat tucked into McElmo Canyon surrounded by orchards, just a few minutes outside of Cortez.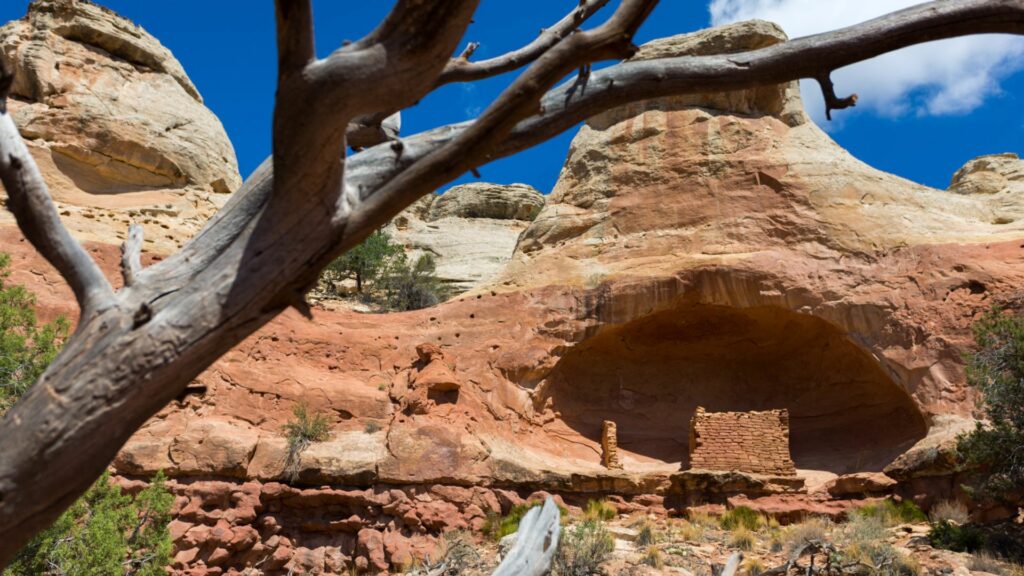 Day 5: Mesa Verde Country to Canyonlands National Park [2 hours]
On your way out of town today be sure to grab a coffee and a pastry from the Silver Bean, plus groceries and water for the day. There are limited amenities in Canyonlands National Park, so be prepared to cook your own meals.
It's just a short drive to Canyonlands from Cortez, so you'll have plenty of time to enjoy the views and experiences in this immense and inspiring national park. Canyonlands has an astounding amount of potential for the adventurous traveler, and there are plenty of guided tour options for everything from mountain biking to rafting, horseback riding and four-wheeling. For this itinerary, we will be focusing on the Needles area in the southeast corner of the park. There are plenty of paved lookouts here and even more hiking opportunities. For a moderate hike with great views, head to Chesler Park Viewpoint. Be sure to bring lots of water and sunscreen on your adventure!
You can camp in the Needles Campground after a day spent exploring, but for a more unique experience, we'd recommend staying at Glamping Canyonlands, just outside of the park. They offer astronomy tours in the evenings, and who wouldn't want to relax in a sauna after a day spent hiking in the desert?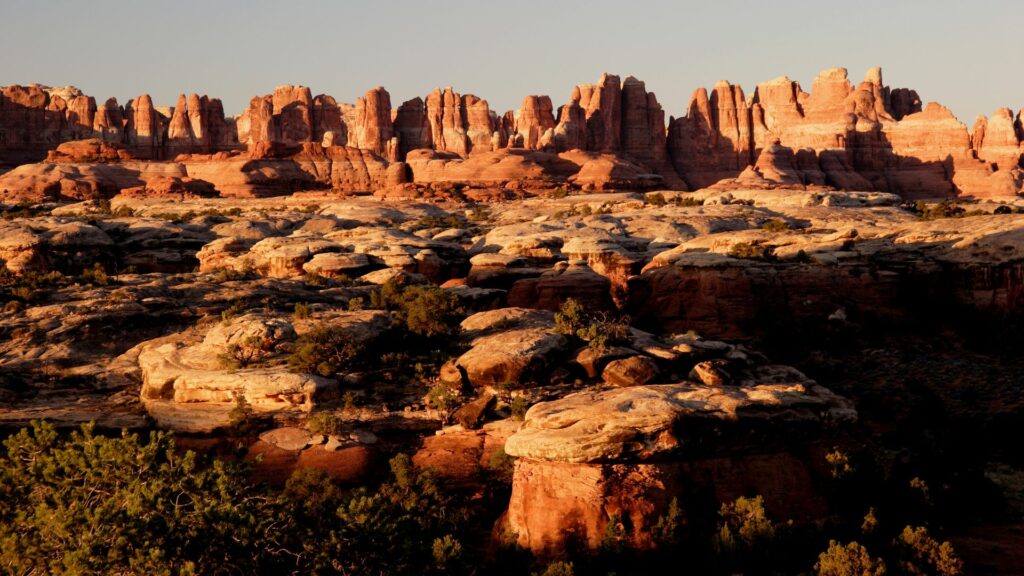 Day 6: Canyonlands National Park to Monument Valley [2-3 hours]
For day six of your road trip extravaganza, you are headed to Arizona! The iconic Monument Valley Navajo Tribal Park is open to the public from 8am to 5pm, so make sure to give yourself enough time to explore. We highly recommend taking a guided tour from a Diné-owned and operated tour guide for the ultimate experience and Indigenous perspective of this sacred landscape.
To immerse yourself even further into the local culture and cuisine, stay at the View Hotel, the only lodging available inside of the park. There are hotel rooms, snug cabins, and RV park and camping options available, as well as a restaurant on-site serving traditional Diné dishes.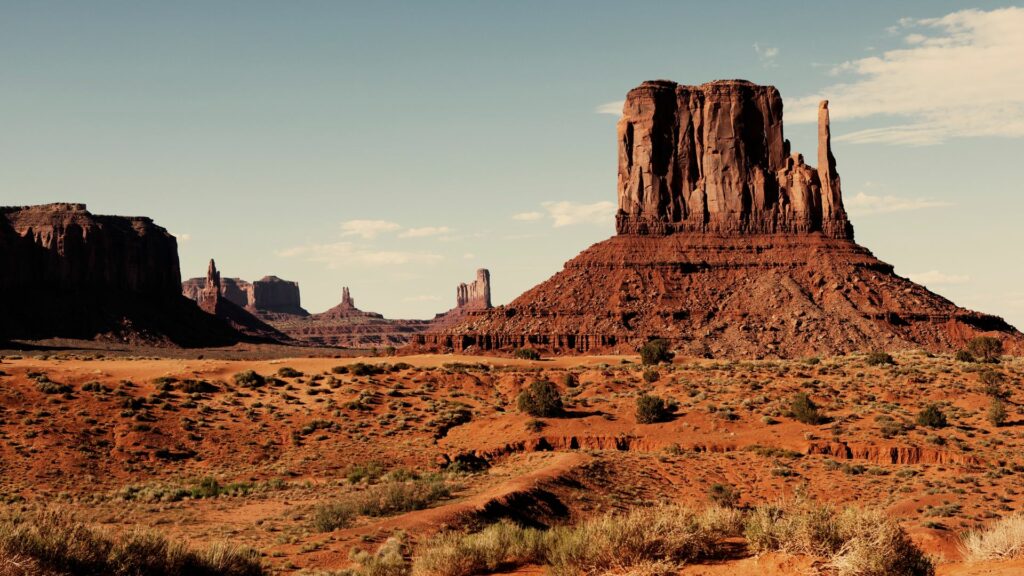 Day 7: Monument Valley to Page [2 hours, 15 minutes]
Today you are going to head to Page, Arizona, and will have some time to take photos at the picture-perfect Horseshoe Bend and even take a dip in Lake Powell! If you are feeling extra adventurous, you could take an Antelope Canyon tour as well—the options are endless. For a quick lunch stop (and potentially the best fried chicken in the West), stop at BirdHouse before you continue to explore the canyons around Page.
For a water-based activity, we'd recommend taking a half-day Horseshoe Bend rafting trip to get a different perspective on the iconic viewpoint and then visiting the lookout at sunset for those Instagram-worthy photos.
After a fun-filled day enjoying the red-rock wonderland surrounding Page, stay at the Shash Diné Eco Retreat for another culturally immersive experience. You can stay in a traditional Navajo Hogan or a more modern glamping tent or cabin. They also offer tours of Antelope Canyon and other luxury tours, and traditional Navajo storytelling and meals.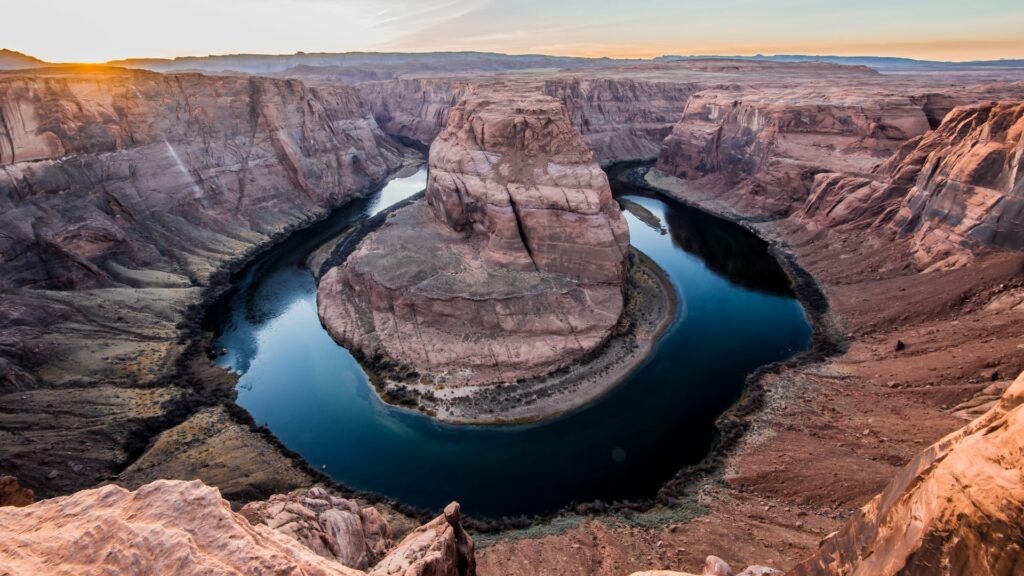 Day 8: Page to Grand Canyon National Park [2 hours, 30 minutes]
For the eighth day of your national parks road trip, you are going to head to Grand Canyon National Park! For this itinerary, we are sending you to the North Rim for a quieter, less-visited and no less majestic experience. Keep in mind, this side of the canyon is only open from mid-May to mid-October, so plan accordingly.
Enjoy a scenic drive with panoramic views and hike along the North Kaibab Trail and down into the canyon. Please do not attempt to hike all the way to the river and back in one day, this full round trip is 28 miles. Be sure to bring plenty of water, and don't hike during the hottest part of the day. Remember to pace yourself and be prepared. There are no easy hiking trails in and out of the canyon. If you'd like an even more unique experience, consider a mule tour!
End your grand day with camping at the North Rim Campground or staying at the Grand Canyon Lodge. The Dining Room at the Lodge offers panoramic views of the canyon, so we'd highly recommend grabbing a meal here.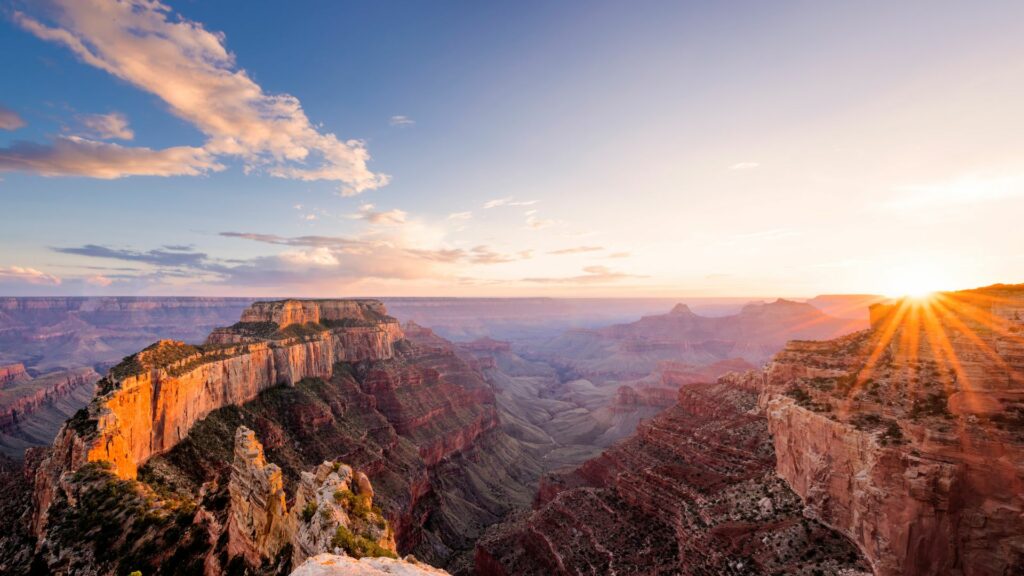 Day 9: Grand Canyon to Zion National Park [3 hours]
Head out bright and early to give yourself plenty of time to enjoy Zion National Park today! If you need a coffee or a snack before your day in the park, stop by Deep Creek Coffee Company in Springdale, UT, just outside the entrance to Zion National Park. The National Park Service also offers a free shuttle service from town into the park, which is a great way to save yourself some time trying to find parking. For the majority of the year, Zion Canyon Scenic Drive is only open to shuttle buses or with a special permit (your park entrance pass is not a permit). Because of this, we recommend you plan on using the shuttle bus to get to your destination in the park (or if you'd just like to take a ride for the scenic views!).
There are wheelchair accessible paths with great views near the Visitor Center, and at the final stop of the shuttle bus, Temple of Sinawava. For a moderate hike, we'd recommend the Watchman Trail. Hiking the Narrows or to Angels Landing are both very strenuous adventures, and require a bit more planning. Because of the popularity of Angels Landing, you will need a permit, and since the Narrows does go through the river, it's important to check water levels and flash flood potential before you attempt this hike.
After a day exploring Zion, camp at South Campground or Watchman Campground near the mouth of Zion Canyon by the Visitor Center, or head back into Springdale for dinner at one of the many amazing restaurants in town (we'd recommend the Whiptail Grill for great Mexican food!). If you'd prefer sleeping in a bed over camping, there are plenty of great lodging options right in town as well.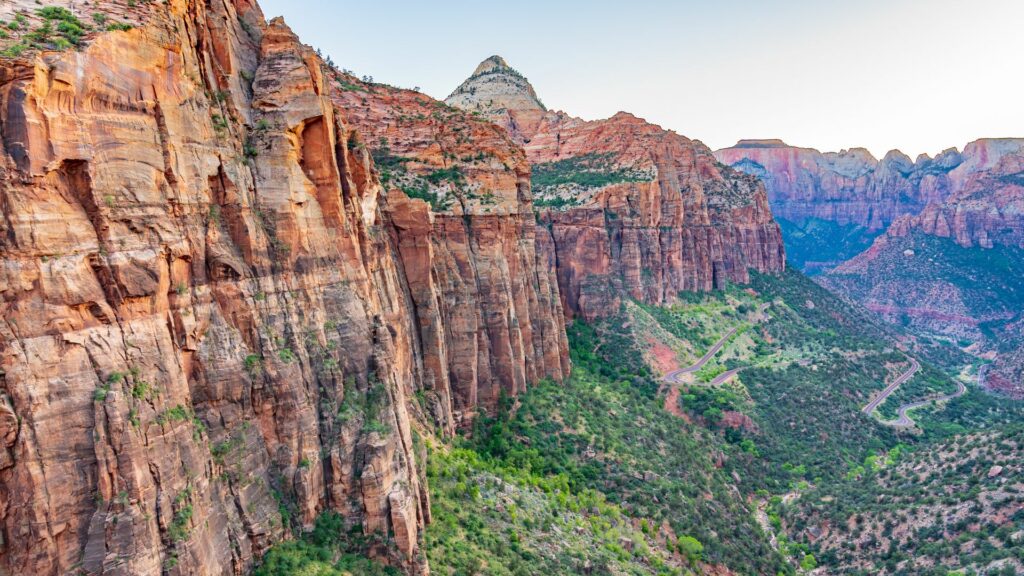 Day 10: Zion to Bryce Canyon National Park [2 hours]
Today you are headed north to Bryce Canyon National Park, home of the largest concentration of hoodoos found on Earth! After your drive, grab a coffee and a breakfast burrito at Bryce Canyon Coffee Co. before heading into the park. There are plenty of amazing hikes in the park, but for an even more unique experience we recommend you go horseback riding into the famous Bryce Amphitheater!
Once you've had your fill of red and pink cliffs and vivid blue skies, head out of the park and toward Escalante, UT where you'll spend the evening. Stop for dinner at 4th West Pub, and then check into Yonder Escalante for a fun and unique stay in an Airstream! Jumping into the hot tub after a day of adventuring will really hit the spot, and finishing the day off enjoying their drive-in movie theater is the icing on the cake.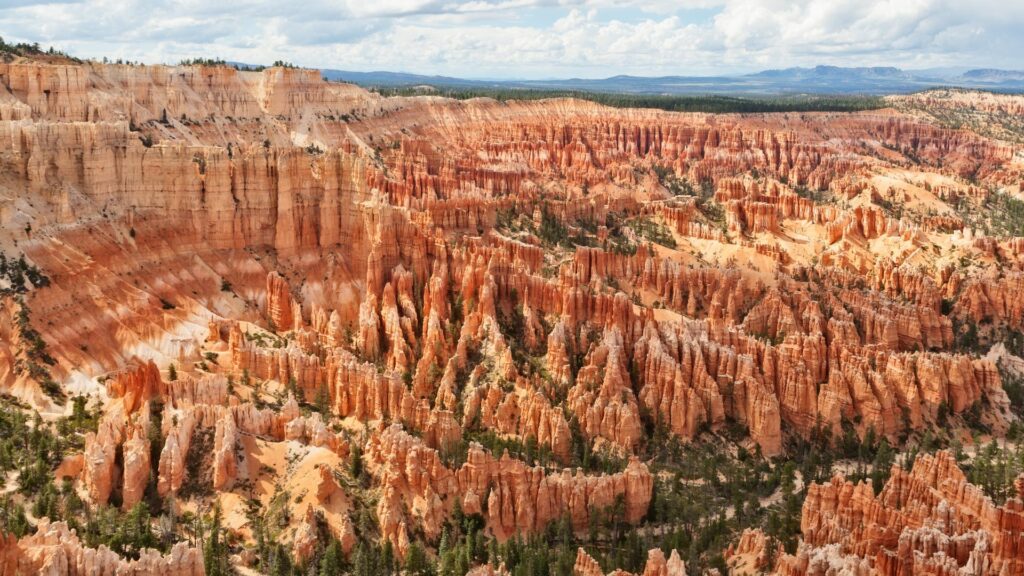 Day 11: Escalante to Capitol Reef National Park [1 hour, 30 minutes]
For your 11th day on this whirl-wind national parks road trip, head to the heart of red rock country, Capitol Reef National Park! Lace up your hiking boots and head out on the Chimney Rock Loop for stunning panoramic views of Waterfold Pocket cliffs, and afterward pick some apples, peaches or apricots (season-dependent) from the historic orchards surrounding the Visitor Center.
The stargazing opportunities around Capitol Reef are truly incredible, so we'd recommend camping and really enjoying the night sky. The Fruita Campground is often referred to as an oasis in the desert, and for good reason. The campground is adjacent to the Fremont River, and is surrounded by the historic orchards mentioned above.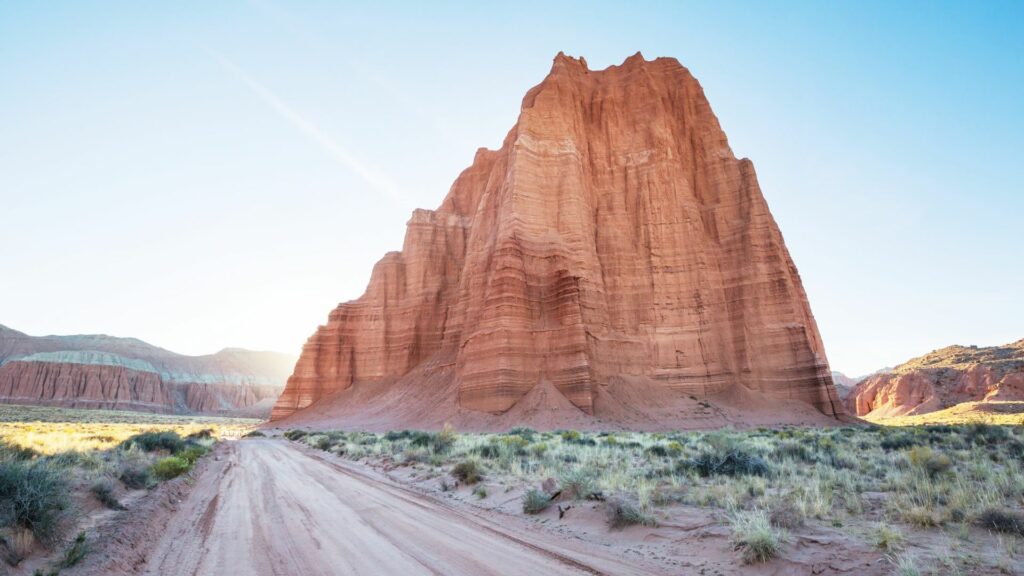 Day 12: Capitol Reef to Moab [2 hours]
You've been traveling for almost two weeks now on your national parks road trip, so when you get to Moab take a little time to relax! Explore the shops and restaurants around town, enjoy a massage and the stunning views surrounding the town. Have some energy to spare? Head out for a hike or a mountain bike ride on one of the many nearby trails. For dinner, check out the Desert Bistro and if you are craving something sweet, make sure to get a milkshake from Milt's!
For a unique sleeping experience, try out Under Canvas Moab, a truly luxurious glamping experience. Located just a few miles out of town, this is a great spot to kick back and relax surrounded by the rugged red rocks and starry skies. Since you'll be in the Moab area for two days, it may be just the spot to post up for tonight and tomorrow night.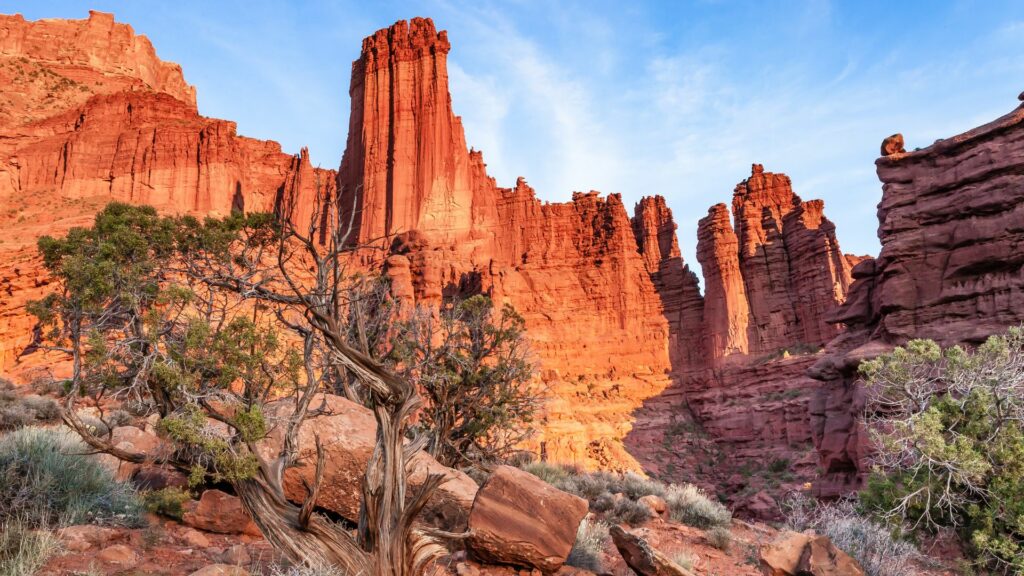 Day 13: Arches National Park
For your 13th day, head to Arches National Park to explore fantastic stone arches, towering pinnacles and giant rocks balanced precariously. On your way to the park, make sure to grab a coffee and a muffin from Red Rock Bakery and Cafe in town. Because of Arches' popularity, you will need a reservation to get into the park between April and October, so plan ahead for today!
For a short, wheelchair accessible hike (with some assistance) with views of the tallest arch in the park, head to the Double Arch Viewpoint and Trail. There are so many incredible trails and views in the park, but if you feel the need to visit Delicate Arch (understandably so), be prepared, understand your own fitness and health levels, and be ready to share the view with other visitors, especially if you decide to visit around sunset. Because Arches has become such a popular destination, it's very important to practice Leave No Trace principles, never climb on the arches or scratch, carve or paint on the rocks (this is still a form of graffiti and requires an immense amount of work to remove).
After your day of exploring some of the most iconic landscapes in the American West, you can either head back to town for a bit to eat and a second night at Under Canvas Moab, or you may want to camp in the park at the Devils Garden Campground. This is another very popular campground, so you will need to make reservations well in advance. There are plenty of other incredible campsites outside of the park if you can't secure a spot in the park.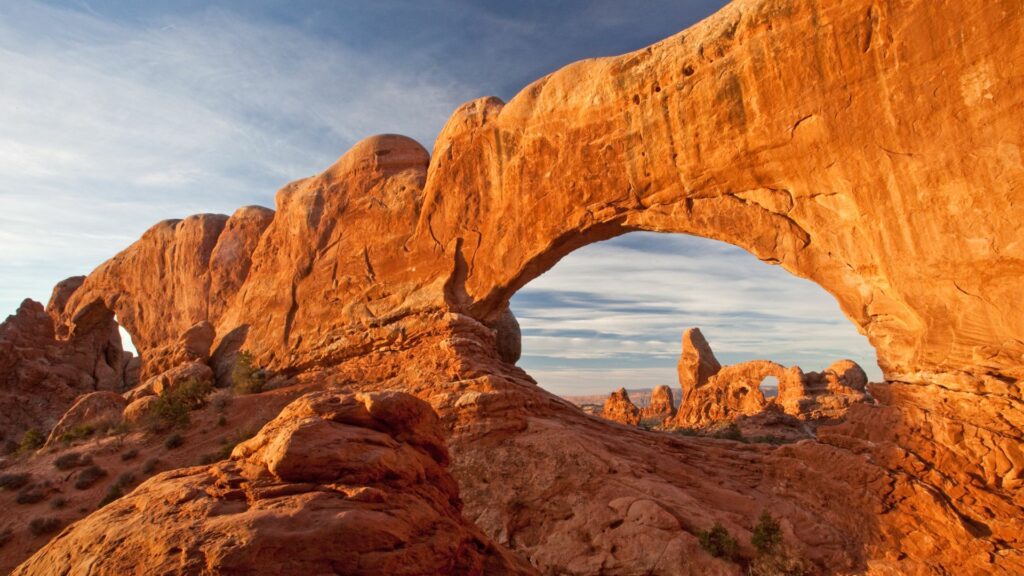 Day 14: Arches to Black Canyon of the Gunnison National Park [3 hours]

Today you are headed back to Colorado! It's a little bit more of a drive today, so get an early start and stop at Backstreet Bagel for a bite in Montrose before heading to the South Rim of Black Canyon of the Gunnison National Park. This park is an underrated gem with mind-blowing views of some of the steepest cliffs, oldest rock and craggiest spires in North America.
The South Rim Road is a scenic drive with 12 overlooks and can easily take between 2 and 3 hours to fully enjoy all the stops. This is a great way to see the majestic canyon walls from multiple viewpoints. For a good moderate hike, walk the Rim Rock Nature Trail. You'll have great views of the Gunnison River, the local flora, and potentially some of the local wildlife as well!

Camp at the South Rim Campground or head to Paonia for the evening (about an hour away), grab a delicious hard cider from Big B's, and then camp or stay in a cabin in their orchard for the night.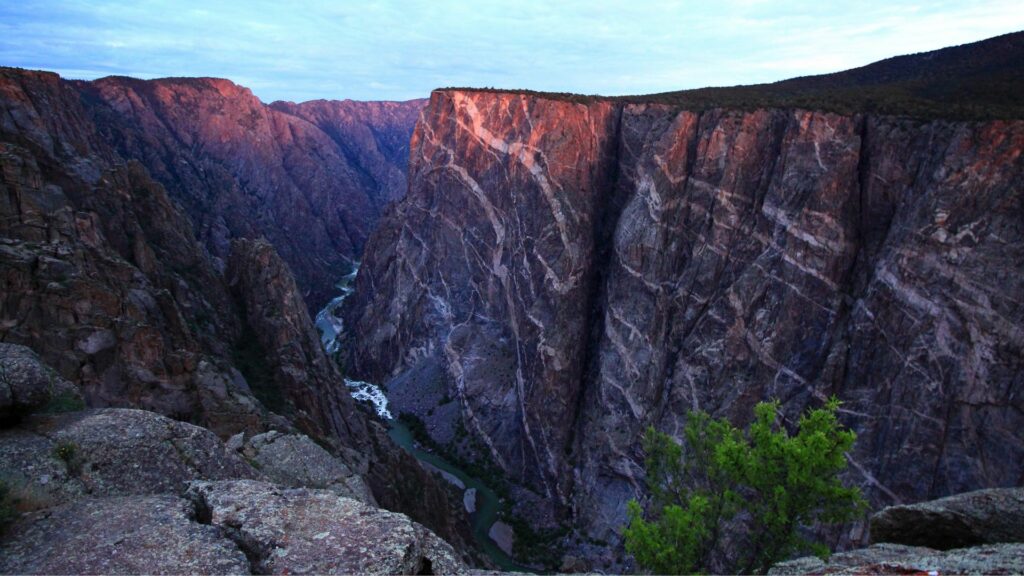 Day 15: Paonia to Grand Lake and Rocky Mountain National Park [4 hours]
You've got a longer drive today, so we have a few stops to break it up. Enjoy a scrumptious breakfast at Sweetgrass Paonia then head north, soaking in the views over McClure Pass and stopping in Glenwood Springs for a soak in one of the hot springs right in town and some lunch at Slope & Hatch.
Once you've refueled and replenished, keep heading north to Grand Lake and the western side of Rocky Mountain National Park. Spend the afternoon stand-up paddle boarding on the gorgeous Grand Lake or Shadow Mountain Lake, then get your fix of Caribbean cuisine at One Love Rum Kitchen. For a convenient and cozy hotel, look no further than Western Riviera Lakeside Lodging. You'll be able to walk anywhere in town from here and you'll be able to enjoy stunning views of the lake right from your room's balcony!
Day 16: Grand Lake to Estes Park through Rocky Mountain National Park [1 hour, 30 minutes]
Today on your national parks road trip you are going to drive Trail Ridge Road through Rocky Mountain National Park, all the way over to Estes Park (with some fun stops in between!). Trail Ridge Road winds through mountain forests all the way up to alpine tundra, and you can expect spectacular views the entire time. This road is not open year-round, so make sure to check conditions before you head out. Rocky Mountain also requires a reservation during peak season, so plan accordingly.
Along Trail Ridge Road, stop for a hike on Tombstone Ridge. This hike usually takes around 2 hours and will give you sweeping alpine views. You will be hiking at elevation, so be sure to bring plenty of water and be ready for rapid changes in weather.
Once you've gotten your fill of fresh mountain air, head down to your last stop on your national parks road trip, Estes Park. There are plenty of adorable shops in town, so we recommend exploring a bit before you head to dinner at one of the many locally-owned restaurants in town. If you want to camp, head to Mary's Lake Campground for the evening, or spend the night at the historic Stanley Hotel, the inspiration for Stephen King's The Shining.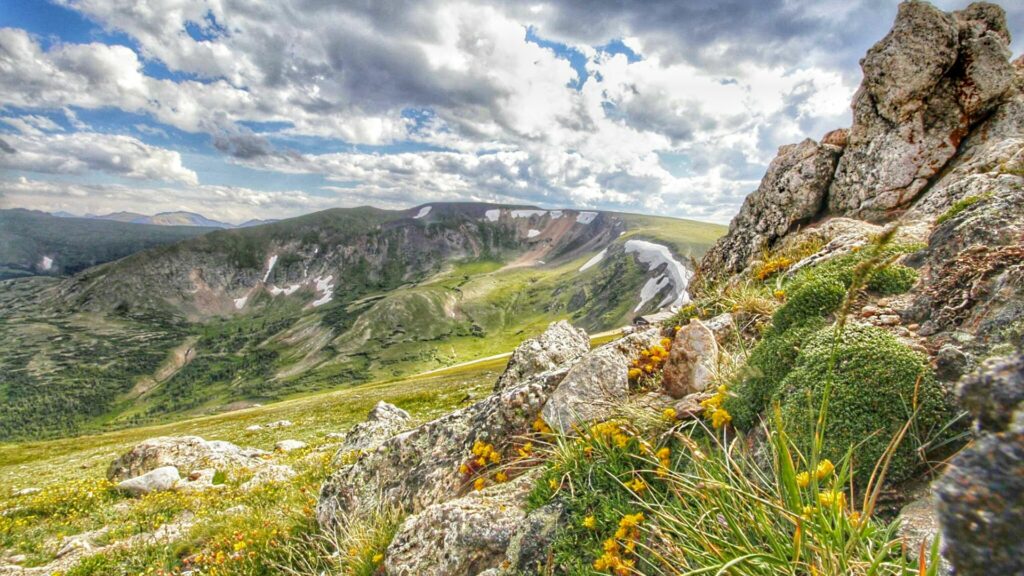 Day 17: Estes Park to Denver [1 hour, 30 minutes]
Grab a morning beverage and maybe a new book from Inkwell and Brew before heading to Denver, the finale of your national parks road trip extravaganza. We hope you enjoyed all the sights and experiences along the way!
Please note that this national parks road trip itinerary is a rough guide, and you may need to adjust the number of days spent at each location based on your interests and pace of travel. Additionally, availability of accommodations and camping sites may vary, so it's a good idea to make reservations in advance, especially during peak travel seasons. Enjoy your adventure!