Mesa Verde Country is home to tremendous diversity when it comes to hiking trails in Colorado. From sandstone mazes through piñon pine to deep shady canyons lined with ancient cliff dwellings and beyond, Mesa Verde Country is the perfect destination for every type of trekker. While the trails that follow are by no means an exhaustive list of what our backyard has to offer, these are some of our favorites with a variety of difficulty levels.
1. Long House Trail in Mesa Verde National Park
A visit to Mesa Verde National Park is a must for anyone visiting Southwestern Colorado for the first time (or even the third, or fourth)! Be sure to take the Long House Tour trail, a paved 2.25-mile round-trip trail that leads you from the visitor's center to Long House, the second largest cliff dwelling in the park. While considered strenuous due to its steep pitch and southward facing nature (i.e. it can be very hot in the summer), the trail is best enjoyed at a leisurely pace allowing you to immerse yourself in this ancient Puebloan dwelling. Featuring 150 rooms, this stunning site was built in the 1200's and stands as a testament to the ingenuity and tenacity/audacity of the people who once called this area home. Looking for something a little longer? Prater Ridge Trail is another great option within the park.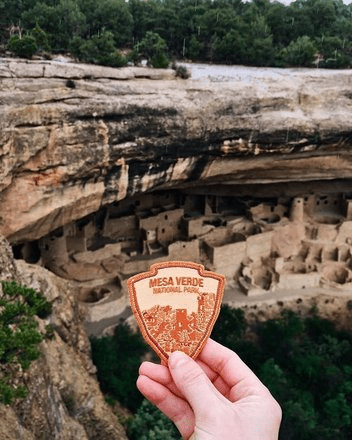 2. Bear Creek Trail Outside of Dolores
For those looking for a longer hike with options for overnight backpacking, Bear Creek Trail is a highly rated option in Mesa Verde Country. This 27.6-mile hike climbs over 4,000 feet in elevation alongside its namesake, Bear Creek, and offers stunning views of classic SW Colorado mountainscapes. The singletrack is especially scenic in the fall, when the many aspen groves that line it morph into a mosaic of shimmering yellows, oranges, and reds. Day hikers need not be dismayed by the length of this trail; Bear Creek is an out-and-back and can be enjoyed at any length. Keep an eye out for colorful butterflies, mule deer, and cheerful western tanagers along the way!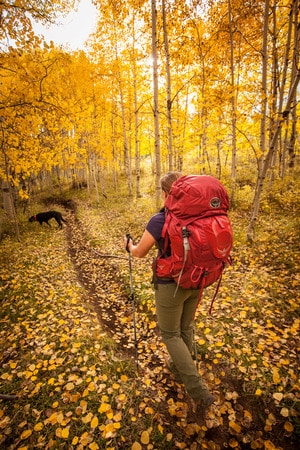 3. Sand Canyon in Canyons of the Ancients
Mesa Verde National Park isn't the only area of historical interest in SW Colorado. Visit Canyons of the Ancient National Monument for a day hike that will have you hitting your step goal while learning about Ancient Puebloan history at the same time. This huge area encompasses 183,000 acres and contains the highest known density of archaeological sites in the United States. You can opt to hike 6.5-mile Sand Canyon as an out-and-back or shuttle it from top to bottom. The length of the trail is dotted with points of interest from ruin sites to an impressive set of 30 switchbacks that climb up (or down, depending on your direction) 700 feet! Near the top of the trail you'll find the largest ruin site in the greater four corners area: Sand Canyon Pueblo. No matter how you choose to hike this astonishing region, pack extra water and always check the forecast for surprise storms that could cause flash flooding.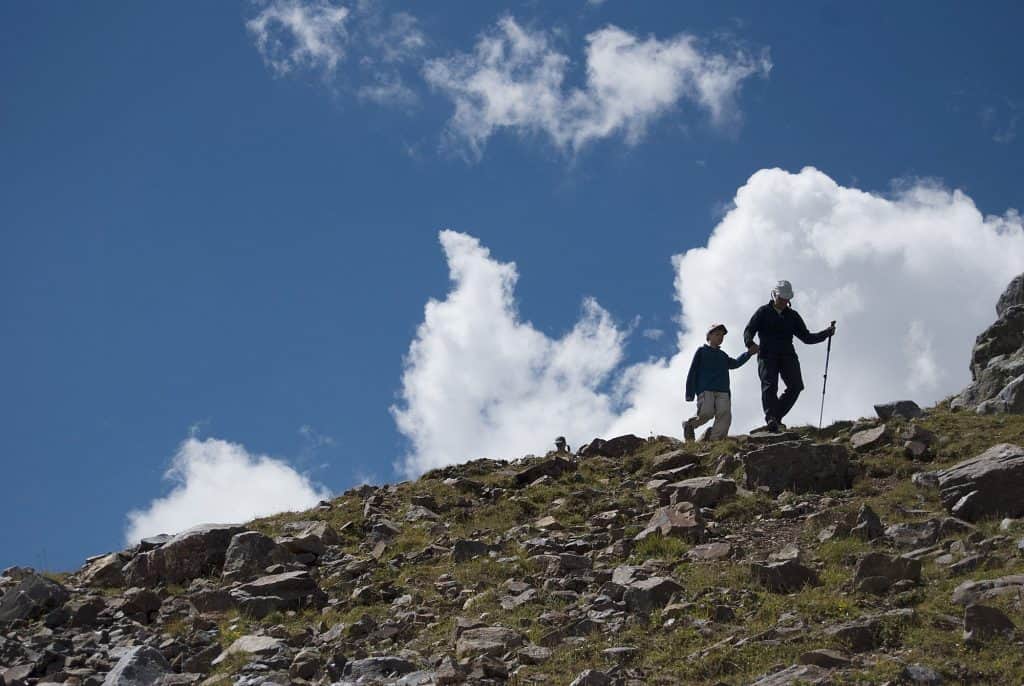 4. McPhee Overlook Trail at McPhee Reservoir
Also called Trail #155, this trail is 8.9 miles each direction and features a plethora of access points from the Boggy Draw Trail system, House Creek Campground, and downtown Dolores. The uncrowded singletrack meanders along mesa tops that overlook scenic McPhee Reservoir below. A little known fact is that a ghost town is submerged beneath the surface of the reservoir! In 1927, the town processed half of Colorado's lumber and housed as many as 1,500 employees. Today it is fodder for our imaginations to reflect on what life must have been like back in those frontier days.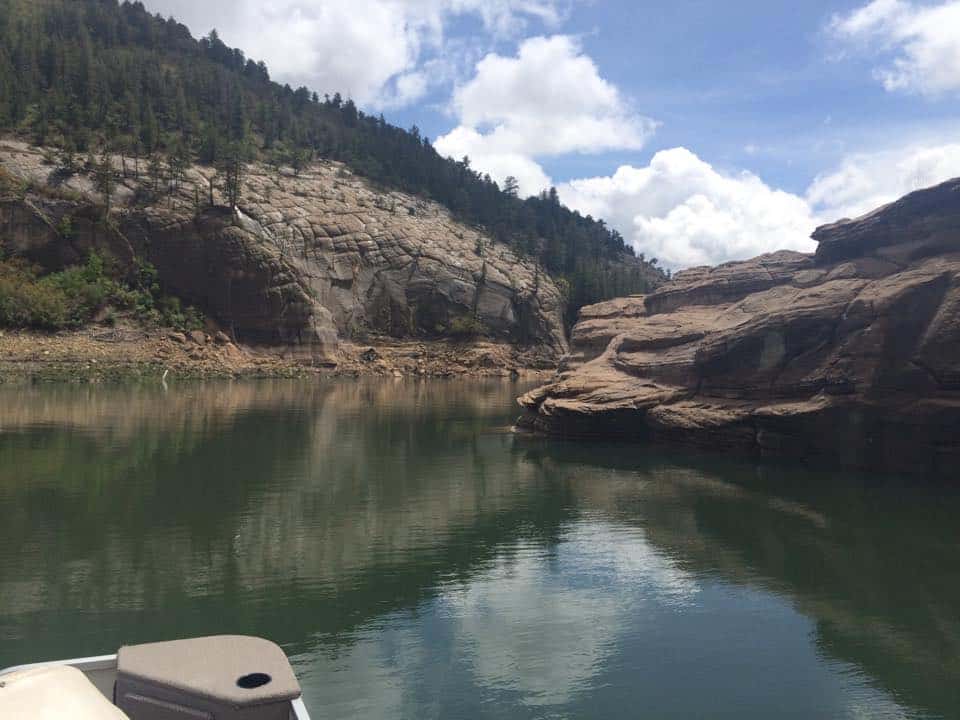 5. Geyser Spring Trail in San Juan National Forest
Think you need to visit Wyoming to see geysers erupting like clockwork? Think again! Southwestern Colorado is home to Colorado's only true geyser. Nestled into the San Juan National Forest near the abandoned mining town of Dunton, this 3-mile out-and-back trail receives light foot traffic and is a great alpine escape on a hot day. After a moderate climb through aspen groves, you'll find the geyser along a creekside. Its milky blue color is interrupted by a series of gurgles and bubbles every 30-40 minutes, so take your time to make sure you witness this small but reliable eruption!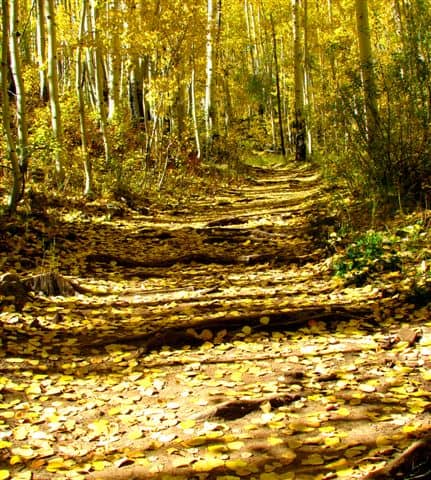 6. Ledges Loop in Phil's World Trail System
Phil's World is known throughout the four corners area as being a premier mountain bike destination, but that doesn't mean you can't hike there! Less than 10 minutes from downtown Cortez, Phil's World boasts 27 miles of trail and there is something for every type of user. We recommend the 4.8-mile Ledges Loop, which winds its way through sagebrush, piñon, and juniper trees with stunning views of Mesa Verde Country. With only 369 feet of elevation gain, this is a moderate trail with technical features that are a hallmark of southwestern hiking. Note that mountain bikes are limited to clockwise travel, so we suggest hiking in a counterclockwise direction and always keeping at least one ear headphone-free for trail safety.