By Kassia Lawrence
For the ultimate archaeology road trip through the Four Corners region, look no further! From the Ancestral Puebloan cliff dwellings at Mesa Verde National Park to the petroglyphs at Chaco Canyon, the sandstone spires in Canyon de Chelly, and plenty of other incredible dwellings, hikes, and sites in between, this 10-day itinerary is the southwestern archaeology itinerary of a lifetime.
There are multiple options for getting to Mesa Verde Country! If you are flying, you can fly into the Cortez Municipal Airport and rent a car. If you are driving and have a few extra days, we recommend exploring the San Juan Skyway as well – Colorado's most scenic drive! This itinerary will follow parts of the Trail of the Ancients Scenic Byway with added stops on the way.
While this is the route we recommend, you can always skip or add days as you see fit! If you don't have enough time to see it all, please come and visit again!
Day 1: Mesa Verde National Park
For your first stop on your archaeology road trip, start in Cortez. From here, you will head into Mesa Verde National Park, so make sure to grab a hearty breakfast and lots of snacks and water before leaving town. Stop by the Visitor and Research Center on your way in to grab a map and chat with park rangers about the history of the Ancestral Puebloans who made this landscape their home.
Mesa Top Loop Road
After the Visitor Center, head to the Mesa Top Loop Road on Chapin Mesa. This is a six-mile drive with short, easily-accessible paved trails viewing 12 archeological sites. Some of our favorite stops on the drive include Square Tower House Overlook, and views of Cliff Palace from Sun Point View. The Mesa Top Loop Road is an amazing place to see not only incredible cliff dwellings, but the evolution of architecture for the Ancestral Puebloan people!
Pro tip: Download the audio tour, A Pueblo Perspective on Mesa Verde, and listen while you drive throughout the park.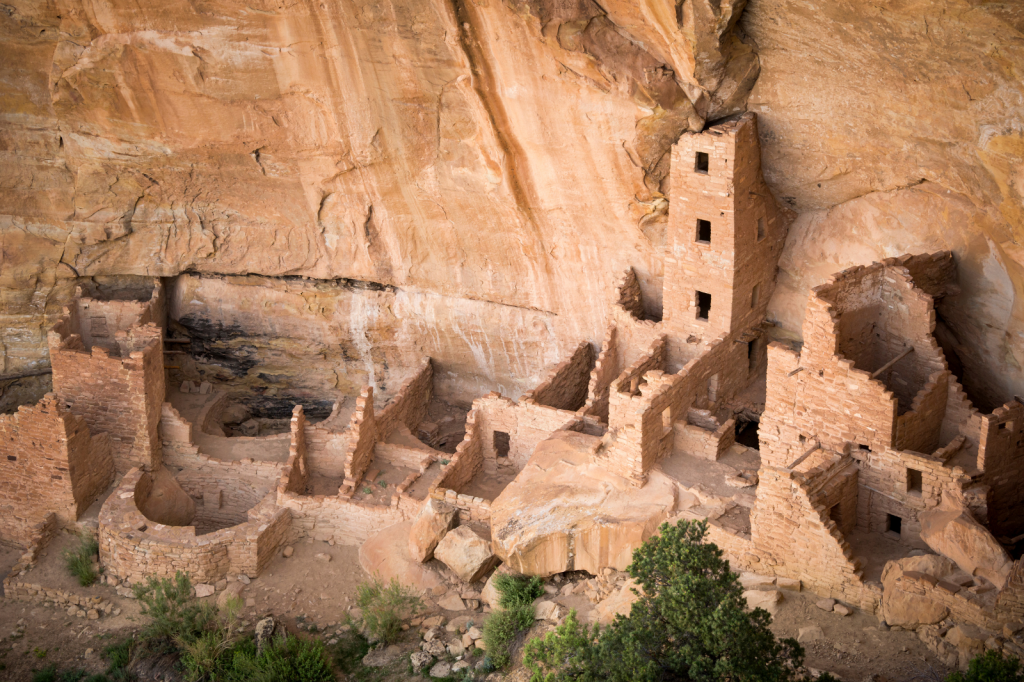 Once you've driven the Mesa Top Loop Road, head back toward the Far View Area.
Far View Sites Complex
From here you will continue your self-guided tour of the park. The Far View Sites Complex includes Far View House, four other villages, and a dry reservoir. The unpaved 3/4-mile easy trail is a great way to view the villages and the beautiful surrounding landscape, and trailside signs will guide you on your archaeology-rich walk. After a full day exploring Chapin Mesa, enjoy a lovely evening staying at the Far View Lodge or camping at the Morefield Campground (both located in the center of the park). In the summer there are often evening programs held by park rangers at the Morefield Amphitheater. Be sure to check with the Visitor Center for current times.
Day 2: Mesa Verde National Park & Mancos, CO
For your second day, start out with a ranger-assisted tour of Long House on Wetherill Mesa. Tour tickets can be purchased at recreation.gov or by calling 877-444-6777, and can be purchased 14 days in advance. These tours sell out quickly, so we recommend planning ahead. Long House will show you the quieter side of Mesa Verde. It will also showcase spectacular architectural features that are not often found in other Mesa Verde archaeological sites. This tour is 60 minutes long, and involves hiking 2.25 miles roundtrip and climbing two 15-foot ladders within the site.
Bonus Archaeology Road Trip Stop: Explore the Step House on Wetherill Mesa on a self-guided tour. Give yourself about an hour for this 1.6-mile roundtrip hike. You will see pithouses, cliff dwellings, and petroglyphs nestled just under the mesa rim.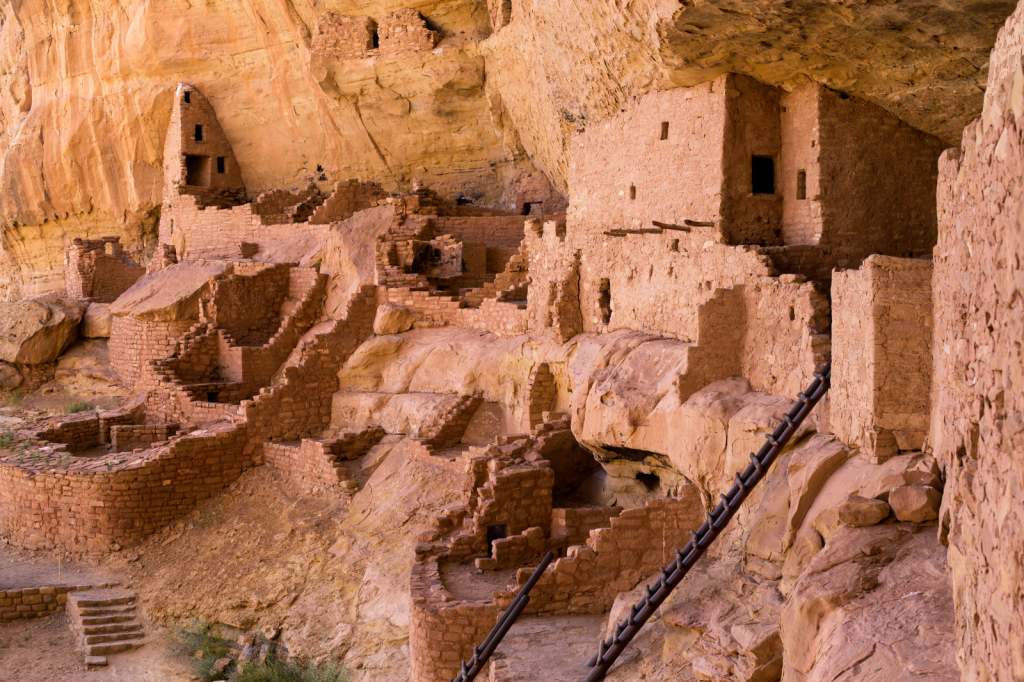 After your tour, it's time to head to Mancos for some delicious food and drinks and a wide variety of accommodations and lodging. We recommend you stop by Fenceline Cider for a refreshing hard cider. Their ciders are crafted with wild and heritage apples and fruits that thrive in the Mancos Valley and Colorado Plateau.
Day 3: Aztec Ruins National Monument & Farmington, NM
From Mancos, you are going to head south on this southwestern archaeology road trip to Aztec Ruins National Monument in northwestern New Mexico. Puebloan people describe this site as part of their migration journey. Today you can explore 900-year old archaeological sites, hear diverse perspectives from Puebloan people, and walk through the Heritage Garden. Wild plants that people in the Southwest have used for thousands of years are still grown here. Make sure to walk along the Aztec West Self-Guided Trail to see the ancestral Pueblo "Great House" and "Great Kiva". You can walk into these structures, and see the original mortar and wooden roofing for yourself. After exploring Aztec Ruins, head to Farmington, NM to stay for the evening.
When in Rome: We encourage you to try some famous New Mexican chile while in Farmington – it won't be hard to find, and it will be tasty!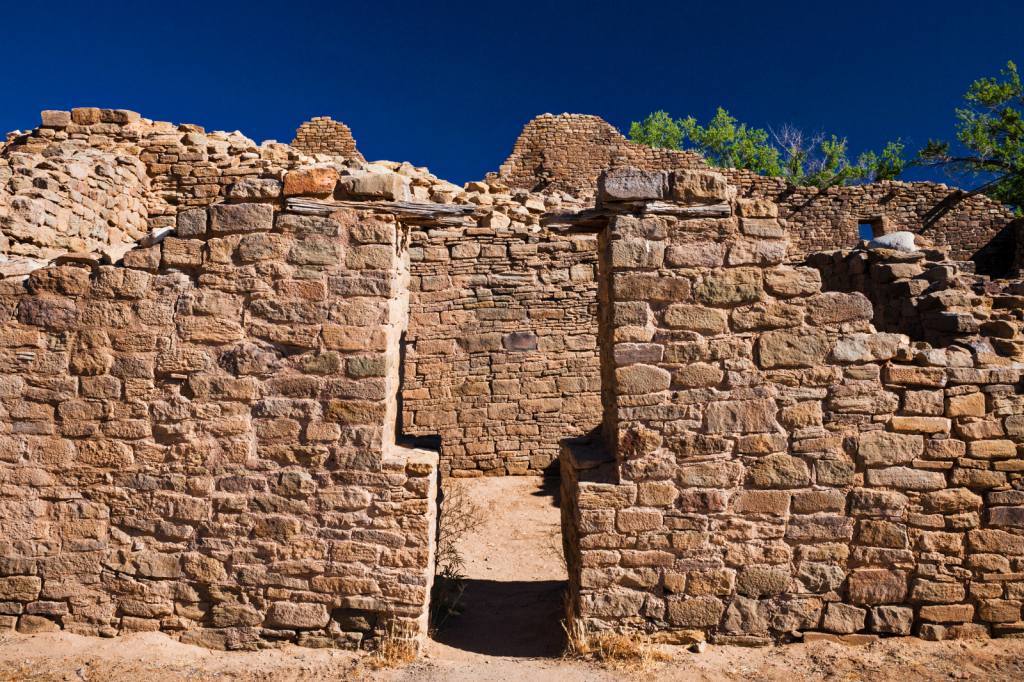 Day 4: Chaco Culture National Historical Park
For your fourth day, visit the remote Chaco Culture National Historical Park, also referred to as Chaco Canyon. This stop on your archaeology road trip is isolated and offers few amenities. Come prepared with a picnic lunch, lots of snacks, water, sunscreen, good shoes for walking, and layers. Chaco Canyon is a designated UNESCO World Heritage site and it's no surprise, as its significance is based on its 4,000 prehistoric and historic archaeological sites, representing more than 10,000 years of human cultural history.
We suggest stopping by the Visitor Center first to pick up a map and then driving the nine-mile loop. The Loop Road will give you access to five major Chacoan sites, including Pueblo Bonito (the most celebrated site in the canyon). Each of these sites do require some walking but are wheelchair accessible with assistance. Get ready to be wowed by the peaceful and serene scenery and mind-blowing dwellings, structures, and astronomical pictographs and petroglyphs.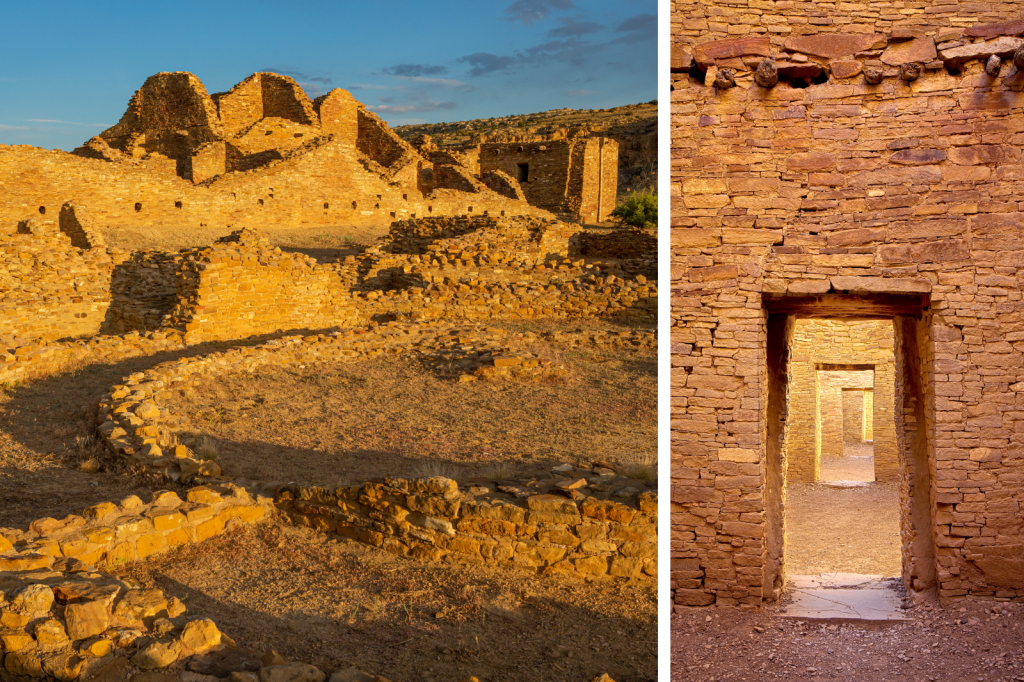 Looking for a bit more of a hike and want to spot some rock art? Make sure to check out the Petroglyph Trail, stretching between Pueblo Bonito and Chetro Ketl. Remember that these environments and sites are fragile and need to be treated with care. Please stay on the trail and don't climb on any of the rocks. After you've spent the day exploring Chaco, head back to Farmington for the evening. We recommend stopping by the Rambler Taproom for a post-adventure beverage.
Day 5: Shiprock, Canyon de Chelly National Monument, & Chinle, AZ
Shiprock, NM
Leave Farmington early in the morning on your fifth day, and head west toward Shiprock, New Mexico. This towering volcanic formation has been sacred to the Navajo people for hundreds of years and is referred to as Tse Bit' a'i. There is no hiking, camping, or climbing allowed on the peak or the surrounding rock formations. Because driving the dirt road that leads to the pinnacle is also not allowed, visitors are asked to view and photograph Shiprock from either Indian Service Route 13, or from U.S. Highway 491. Please respect the local Navajo community and enjoy this majestic site from afar.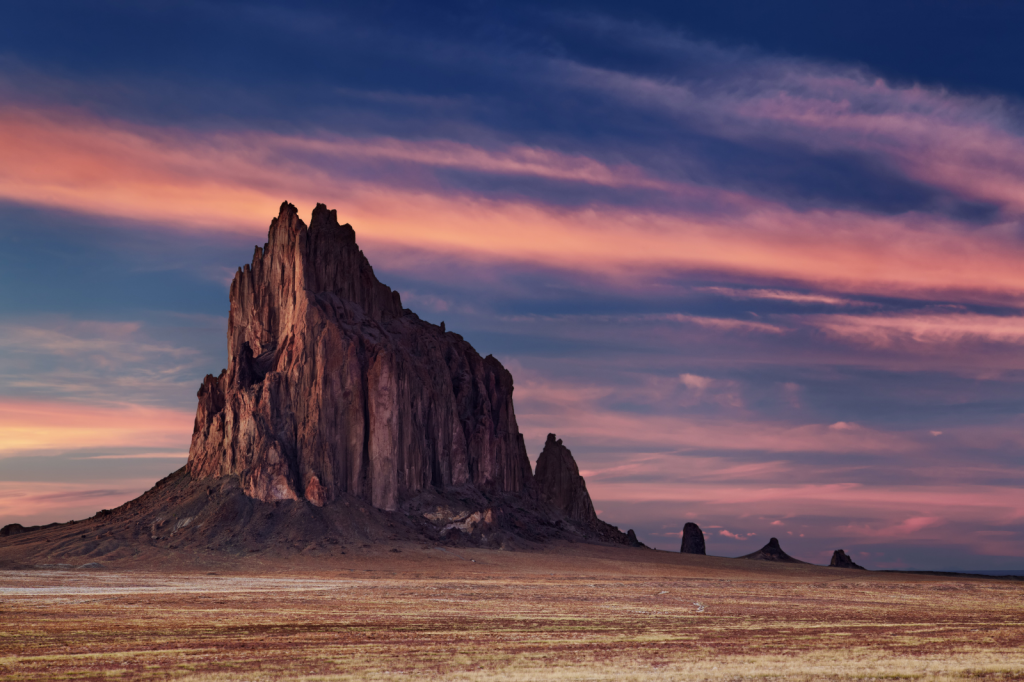 Canyon de Chelly National Monument, AZ
After spending some time taking photos of the peak, head southwest to Canyon de Chelly National Monument just outside of Chinle, Arizona. This canyon system is a very special place; for nearly 5,000 years, people have lived in these canyons (longer than anyone has lived uninterrupted anywhere on the Colorado Plateau). The Ancestral Puebloans, followed by Hopi and then Navajo, have called Canyon de Chelly their homes. Today more than 40 families live at the bottom of the canyon.
We recommend visiting the Welcome Center for the most up-to-date information on activities in the canyon, and taking a scenic drive along the North or South Rim. You won't be allowed into Canyon de Chelly without a guide, so plan ahead or enjoy the views from the rim. Keep an eye out for Spider Rock—an 800-foot sandstorm spire. After you've had your fill of red canyon views, head to Chinle for the evening.
Foodie tip: While in Navajo Nation, make sure to stop and have some traditional Navajo fry bread – it's always a treat!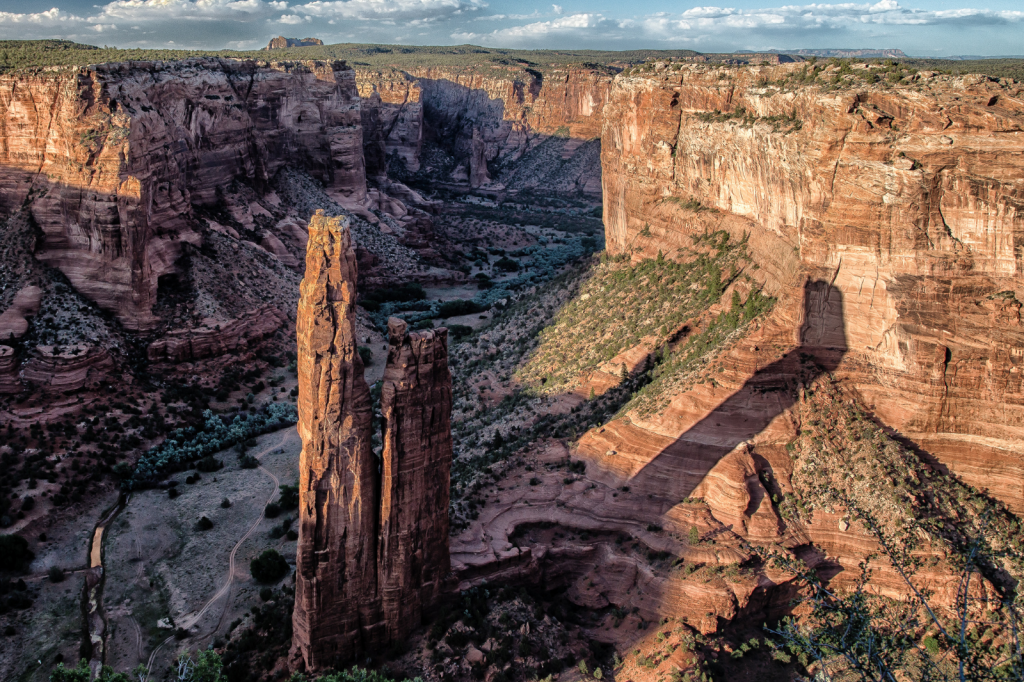 Day 6: Monument Valley, Edge of the Cedars State Park & Blanding, UT
On your sixth day, head north toward the border of Arizona and Utah. Your first stop will be Monument Valley Navajo Tribal Park. This awe-inspiring landscape was first settled in by the Ancestral Puebloans around 12,000 BCE. They were followed by the Navajo people who still live here today. Take a self-guided tour of the valley on the 17-mile Valley Drive, or take a hike on Wildcat Trail, a four-mile loop that wraps around the West Mitten Butte with great views of East Mitten Butte and Merrick Butte as well. These are the only two self-guided options for Monument Valley. If you'd like something more adventurous or in-depth, we recommend you hire a tour operator.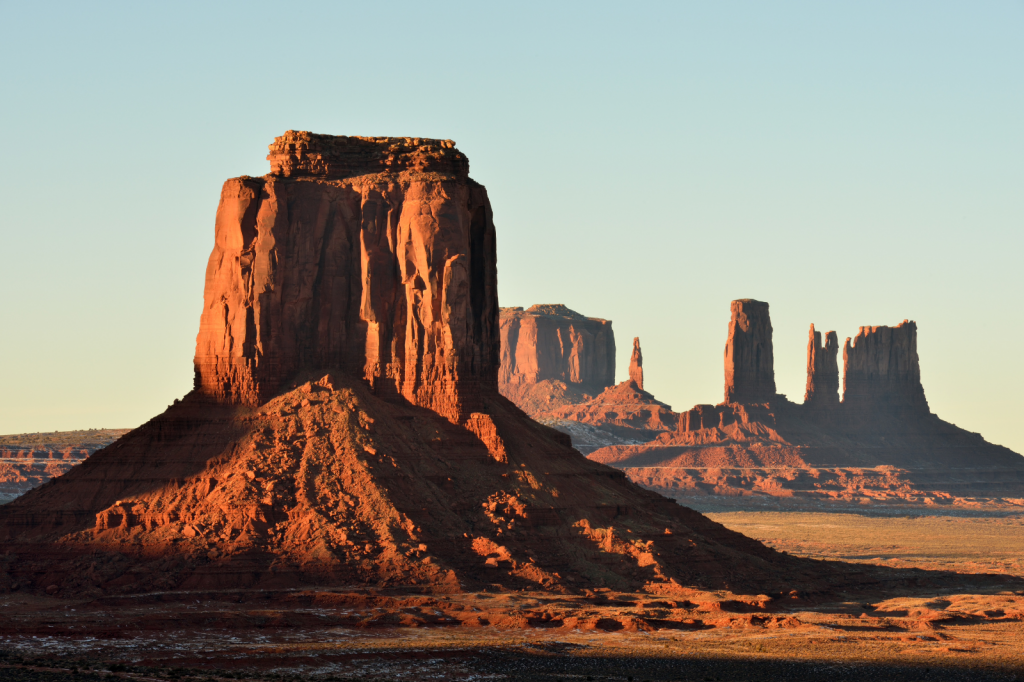 After your morning in Monument Valley, continue north to Blanding, Utah. There are plenty of incredible archaeological sites around Blanding to visit. One of our favorite spots is right downtown! Edge of the Cedars State Park Museum has the largest collection of Ancestral Puebloan pottery on display in the Four Corners region, and the museum was built at the site of an ancient village. The restored kiva and several other structures are right behind the museum and allow for self-guided exploration. Spend the evening relaxing in Blanding after an action packed day.
Day 7: Butler Wash Ruins & Cortez, CO
Butler Wash Ruins are just a short drive from Blanding. This cliff dwelling village was built by the Ancestral Puebloans around 1,200 BCE and has four kivas, living quarters, and storage structures. The hike is one mile round trip and shouldn't take more than an hour. Please be aware, there is no water at this site, so make sure to come prepared with water, snacks, and sunscreen!
After your hike to Butler Wash Ruins, head east back over the border to Cortez, Colorado. Spend the afternoon wandering through galleries and trading posts in town, enjoying the local art scene.
Bonus Archaeology Road Trip Stop: Before you leave Utah, visit Natural Bridges National Monument! Drive through the scenic park, and stop if you'd like to hike to Kachina Bridge, Owachomo Bridge and Sipapu Bridge. These were named in honor of the Ancestral Puebloans who lived here. If you are interested in a longer hike, consider the walk out to the Horse Collar Ruin Overlook to catch a glimpse of some well preserved ancient dwellings.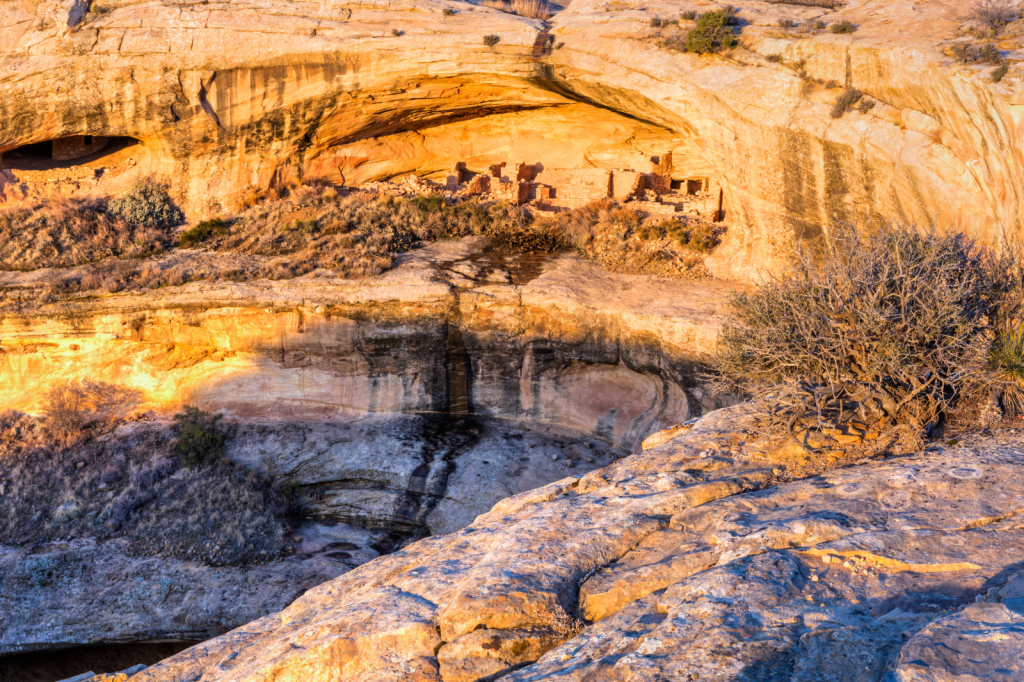 Day 8: Hovenweep National Monument & Crow Canyon Archaeological Center
On your eighth day, head to Hovenweep National Monument just outside of Cortez. This National Monument shows human habitation dating back over 10,000 years to when nomadic Paleoindians came to gather food and hunt game. The towers of Hovenweep (one of the many characteristics that makes this site unique) were built by Ancestral Puebloans by the late 12,000's. We recommend hiking the Square Tower loop trail to see Square Tower, Hovenweep Castle, and Hovenweep House. The trail starts at the visitor center, and is about two miles roundtrip. To make a longer hike, keep going to the Holly Group where you will be able to see more impressive tower structures (Tilted Tower and Holly Tower). This hike will be around eight miles in length.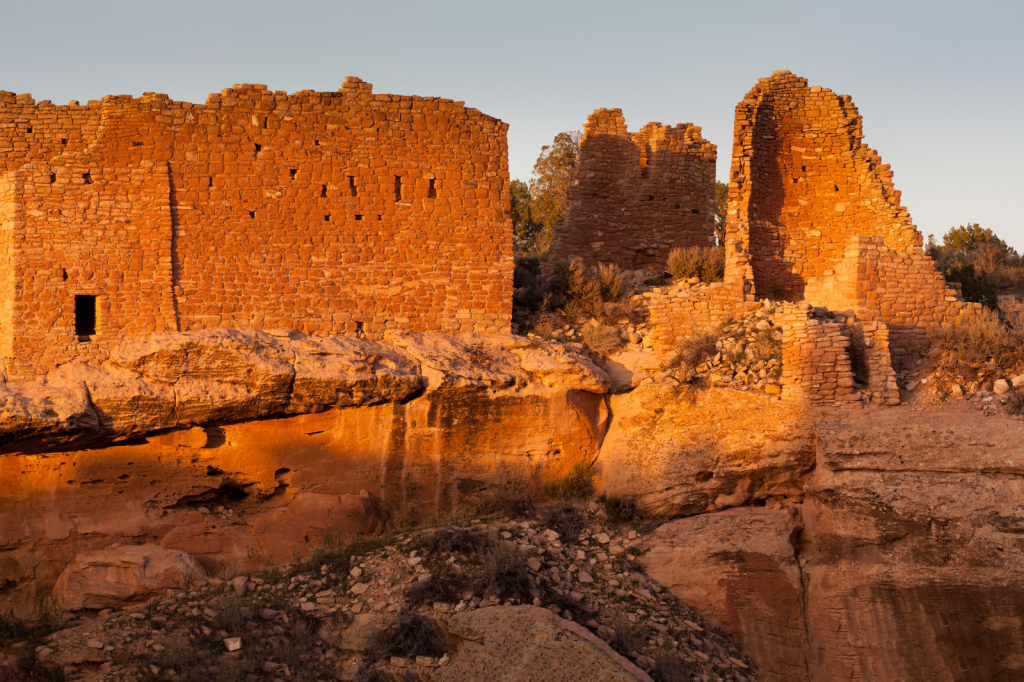 Once you've had your fill of winding desert hikes and stunning ancient structures for the day, head back to Cortez. Just west of downtown, stop by the Crow Canyon Archaeological Center and participate in an immersive workshop or to just visit the research facility.
Day 9: Ute Mountain Ute Tribal Park
For your second to last day in Mesa Verde Country and on your archaeology road trip, head to the Ute Mountain Ute Tribal Park. Just south of Cortez, visit for an Indigenous perspective on the area. Tours in this landscape rich with history are guided by Ute Indians. They have a broad knowledge of Ute and Ancestral Puebloan cultures. The tours include Ute history and rock art, surface sites, and cliff dwellings. The full day tour (which we highly recommend) visits four magnificent cliff dwellings. It requires a three-mile walk on unpaved trails and scaling ladders. In order to protect the fragile resources, self-guided tours are not permitted. Visit www.utemountaintribalpark.info or call 970-565-9653 for tour information.
Note: The guided tours in Ute Mountain Ute Tribal Park require physical activity for extended periods of time, and are not handicap accessible. Please be sure to bring water, snacks, sunscreen, and sturdy hiking shoes. Above all, come prepared for an adventure!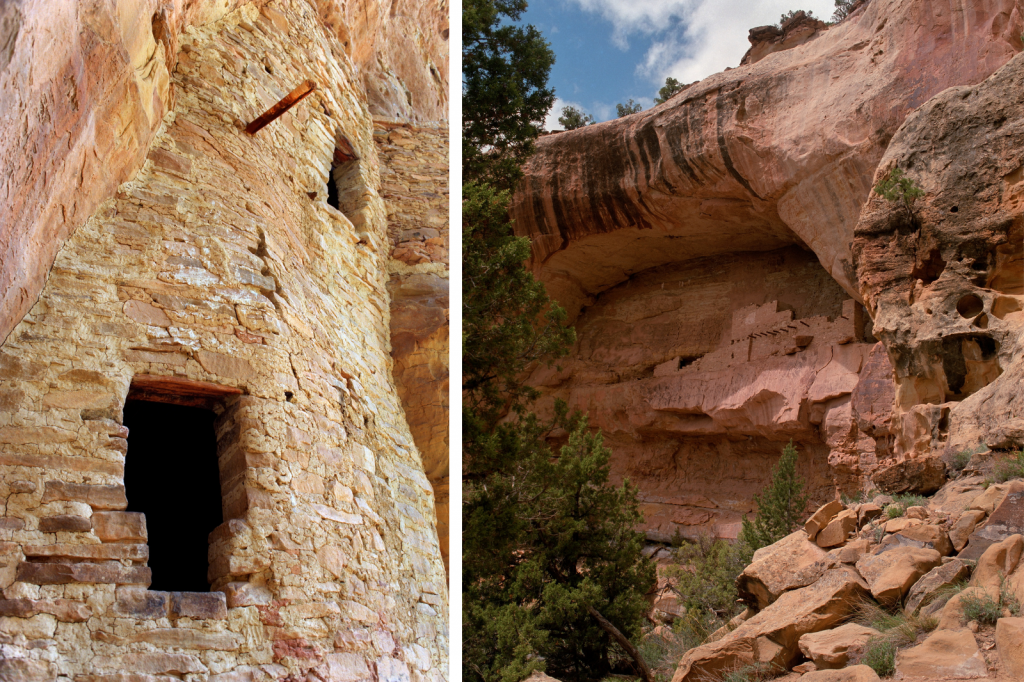 After a day spent adsorbing the Indigenous heritage of Ute Mountain, it will be time for a delicious dinner. Cortez, Dolores, and Mancos have an amazing selection of dining experiences with a cornucopia of flavors in every direction. From the original indigenous crops grown here to Southwestern flavors, to the influx of renowned chefs who have made the area home, to the return to farm-to-table tradition, the taste of southwest Colorado will have something for everyone.
Day 10: Canyons of the Ancients National Monument
On the last day of your whirlwind archaeology road trip, close out your trip with Canyons of the Ancients National Monument. This amazing stop contains the highest known archaeological site density in the United States. Stop by the Visitor Center and Museum before you head into the Monument for a map of the area and some direction from a ranger. We recommend you visit the impressive Lowry Pueblo, as this site has 40 rooms, eight kivas, and a Great Kiva. If you want to spend the full day at Canyons of the Ancients, we suggest you also visit Painted Hand Pueblo—a beautiful standing tower perched on a boulder. The pictographs at this site are well worth the trip. As always, these paintings and structures are incredibly fragile, so look but never touch.