ADVENTURES ON TWO WHEELS
From single tracks to challenging climbs in the San Juan Mountains, Mesa Verde Country offers more than 600 miles of trails. From slick rock to old growth forest and no crowds, biking in Mesa Verde Country is a breath of fresh air.
Spring, summer, and fall are the best times to ride, but winter fat tire biking is making Mesa Verde Country a year-round mountain biking destination. The higher elevations of the mesas and mountain trails offer incredible views, as well as relief from mid-summer heat.
Must Ride Trails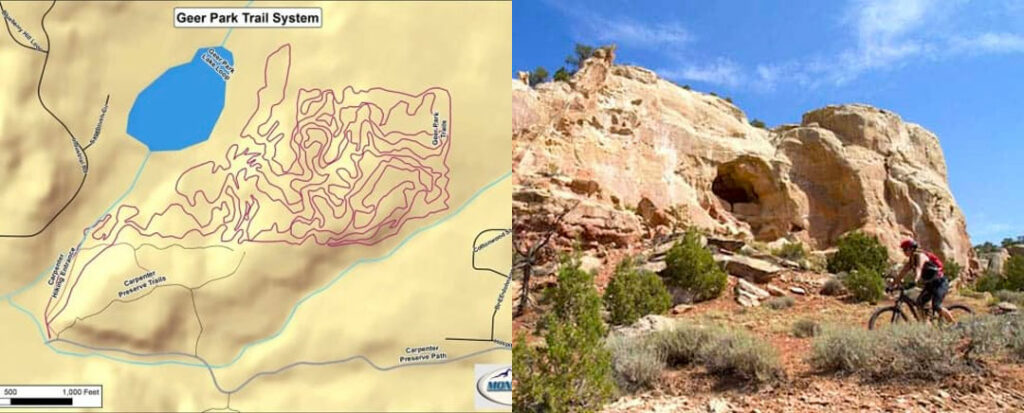 Sand Canyon Trail
In Canyons of the Ancients National Monument may be the only place in the world you can ride single track and slick rock past ancient cliff dwellings. The roughly six mile out-and-back trail offers amazing views and scenery that will make you forget you're in Colorado.
PHIL'S WORLD TRAIL SYSTEM
Just six miles from Cortez, is like no other. A mix of beginner, intermediate, and advance trails attract riders of all levels. Test you skills on the Ledges trail with steep descents, a few drops, and some technical climbs. The Rib Cage trail (the most fun and popular by far) is like a roller coaster ride with sweeping berms and giant, fast rollers. After a few pedal strokes, your momentum will take over and it's time to enjoy the ride! Phil's Word has approximately 60 miles of trails, thanks to a recent expansion by the Kokopelli Bike Club. It's also home to the annual 12 Hours of Mesa Verde mountain bike race, which attracts loads of endurance racers.
BOGGY DRAW
Located near Dolores, the 30-plus miles of trails at Boggy Draw range from beginner to intermediate in the shade of old growth forest. The Boggy Draw Loop is a fairly mellow 9-mile ride through Ponderosa pines – great for family riding. For a longer and bit more challenging ride, the 13-mile intermediate rated, Bean Canyon Loop starts with several climbs and descents followed by a fun section of flowing single track and then a steady climb before connecting back to the trailhead.
ROAD RIDES
Cyclists and motorcyclists can take advantage of the two national scenic byways: Trail of the Ancients National Scenic Byway (the only one in North America dedicated to archaeology) and the San Juan Skyway, also known as "America's Most Beautiful Drive." Bicycle rentals, equipment, and repair are readily available in the area. Additional route information is available at the Dolores Public Lands Office and retail outlets throughout the area. Trail maps from Big Loop Maps are found in Cortez at Kokopelli Bike and Board and at Lizard Head Cyclery in Dolores.
Before You Go
All archaeological and historic sites and artifacts are protected by Federal law, please do not disturb sites
Ride bikes only on the road and designated routes to prevent damage to the ecosystem and lower elevation cryptogamic soils
Do not disturb wildlife or livestock
Respect public and private property including trail signs, no trespassing signs, and fences
As you pass through gates, leave them as you find them either open or closed
Do not litter, pack out what you pack in
Use appropriate safety equipment (helmet)
Carry adequate drinking water
Bring 2 quarts of water minimum on longer rides
Because there are many side routes and trails in these areas, the map and route suggestions provided here should be used with USGS topo maps,
compass, and odometer
Do not travel alone, and leave word of your destination, and time when you expect to return
Carry bike tools, a tire repair kit, and pump. There is very little vehicular traffic on some routes, so a breakdown would mean a long walk.
MAIN ATTRACTIONS
Dolores River Canyon
Boggy Draw
Chicken Creek/Rim Trail Loop
Stoner Mesa Trail Loop
AMENITIES & SERVICES