Photos by Kassia Vinsel
When you tell your young children that you're taking them on vacation to a place rich in history and heritage, with locally sourced foods and quirky motels, they do their happy dance, right? Well maybe not, but we're here to tell you that the vacation buzzwords that get you excited don't exclude the wow-factor moments your kids will be talking about for years.
Day 1
As you roll into Mesa Verde Country, start off by checking into your room at the Mesa Verde Motel. Yup, we said motel. You'll appreciate the pun on the sign as you roll up, and the kids will love that their room in your suite has a bunk-bed and that there's a surprising, delightful playroom, as well.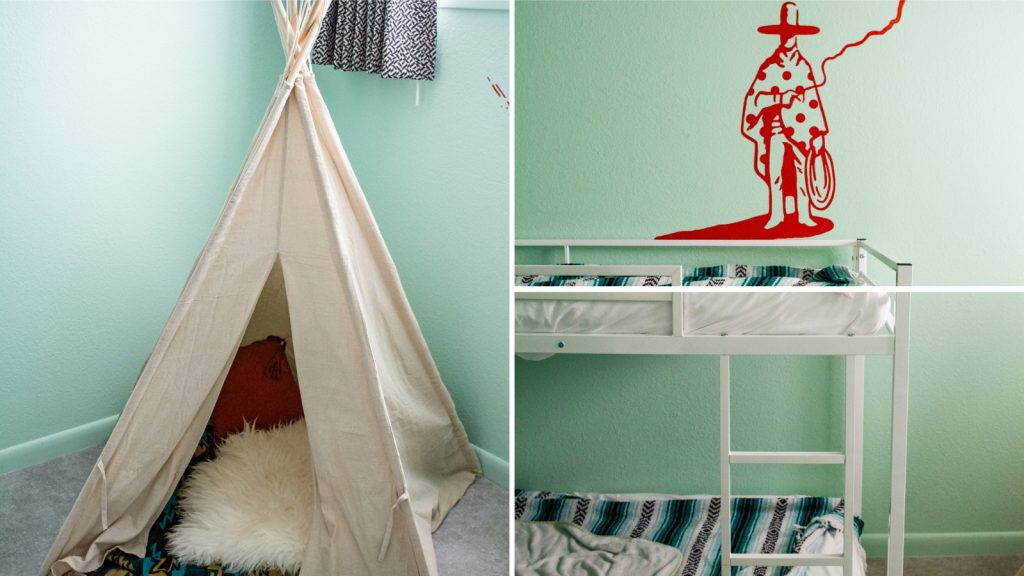 Now that legs have been stretched, wiggles have been wrought out, and the kiddos are eager to see what else this unexpectedly not boring destination has to offer, swing by Mi Tequila Mexican restaurant in Dolores, about 25 minutes away. The colorful decor will delight the eyes (indoor and outdoor dining), and the flavors will delight palates of all ages.
The fuel and warmth of the folks at Mi Tequila will lead perfectly into Canyons of The Ancients Visitor Center & Museum. Before the kids (or any tired adults) can start to dread the tired feet and heavy eyes of a massive, silent museum, reassure them of a few things: This museum has movies and hands-on exhibits. Have you ever touched a real bone drill, stone points, or ancient pottery, excavated from Ancestral Puebloan sites? It's also an indoor-outdoor museum, so be sure to stroll (or sprint) along the half-mile, paved trail past the Escalante Pueblo, past interpretive displays about local legends (learn about the lore of Sleeping Ute Mountain) and plant life, and even right through the stone walls of the Dominguez Pueblo!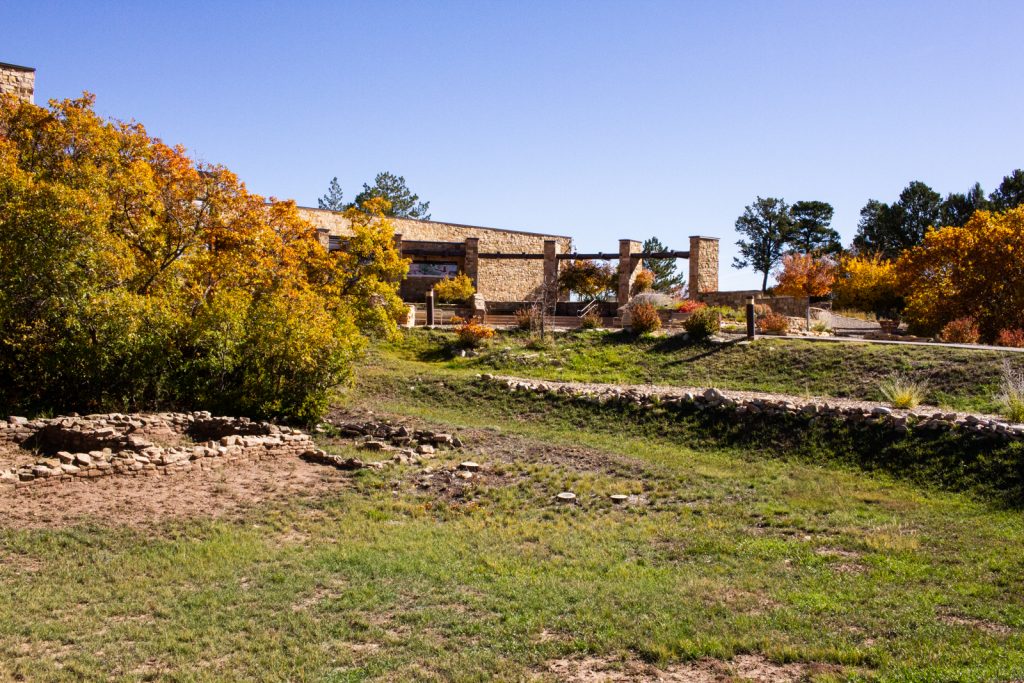 While you're there, learn about stops you'll make with the family later, including Lowry Pueblo and the trails and cliff dwellings of Sand Canyon in the vast Canyons of the Ancients National Monument.
After a quick lunch break, wander about Mancos to get your bearings and settle in. Mancos is great for families with little kids because it is very walkable and there are green spaces and restaurants nearby. The Creative District of this peaceful community has a lot to offer appreciative adults and curious kids. Don't miss Bomdiggity, where the kids can learn to play various drums and gongs under the instruction of the equally excitable shop owner.
As you wander, you'll spot chalk art on sidewalks with invitations to join in for a round of hop-scotch or grab a stick of chalk to add to the creation. The art will lead you straight to the park and the nearby Fenceline Cider which boasts local ciders, food trucks, and often live entertainment.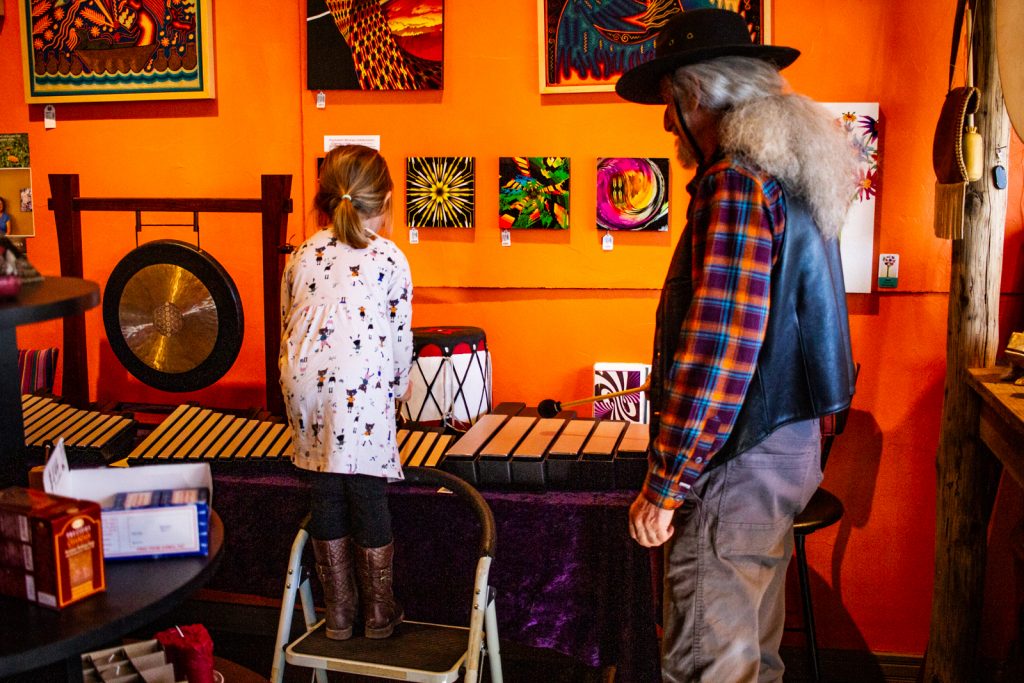 Day 2 in Mesa Verde with Kids
On day two, rise and shine for a short walk from the motel to Absolute Bakery, where the adults will savor bottomless coffee and the kids will relish in the toy cabinet. Fill up, because a big day is ahead!
Thanks to yesterdays' time at the Canyons of the Ancients Museum, you'll know a bit about the Ancient Puebloans of the region, as well as the best ways to preserve sites and artifacts you'll explore today.
First stop: Lowry Pueblo, about an hour drive from Mancos, is an accessible, welcoming entry into these ancient dwellings. Follow the trail around the primary structure and learn about the building, the archeological dig, and the lives of the people who called this "home." There are even places where you can enter the pueblo, but don't crawl or jump down into the sacred kiva.
An excellent way to experience the Lowry Pueblo (and many other corners of Mesa Verde Country) is to contact the Southwest Colorado Canyons Alliance for a personal, educational tour tailored to your family. It's a great way to understand Mesa Verde with kids being invited into the lessons!
When it's time for a break, head to Cortez, which is the largest community in Mesa Verde Country and just 30 minutes away, for lunch. The Loungin' Lizard has dining indoors and out and a wide variety of meals and beverages to offer.
Now, if you brought your bikes, you get to use them! And if you prefer a hike, lace up your boots! Boggy Draw, near Dolores, has mellow trails that bikers of most ages and abilities can enjoy, as can hikers and stop-to-smell-the-flowers wanderers. Meander through the ponderosa pines and wildflowers on two wheels, two feet, or perhaps piggy-back style to see a whole different type of landscape in Mesa Verde Country. Enjoy the rock outcroppings overlooking the Dolores Valley for some great family photo opportunities.
When everyone is tuckered out, head a couple miles down the hill to Dolores River Brewery, where the kids will find more pizza than they've ever imagined and the parents can sip a locally crafted brew before bedtime.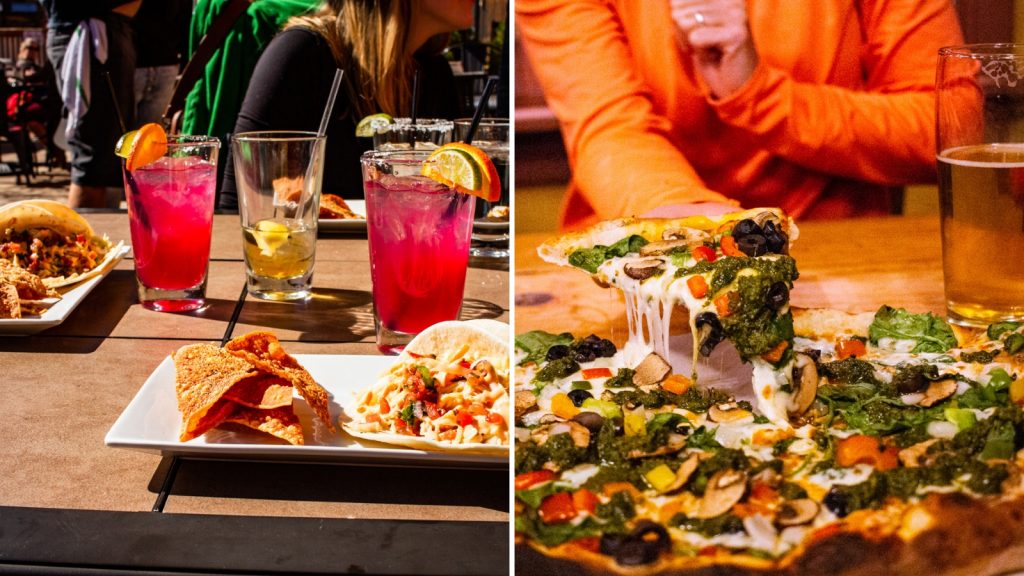 Day 3 in Mesa Verde with Kids
Grab breakfast to go at Fahrenheit Coffee Roasters and make your way to Mesa Verde National Park. This park has countless locations to stop and explore cliff dwellings, learn from knowledgeable park rangers, and ponder the ancient lives here and where the residents went. This famous national park is great for families with little kids but you have to be strategic, as it can be easy to over extend yourselves in the sizable park. Planning ahead so you have the energy and time to see everything you hope.
Most trails are kid friendly and some sites allow you to step into ancient, abandoned structures. One family favorite is Step House because of the short walk and the opportunity to climb a ladder (or a couple steps) up to stand in one of the cliff dwellings.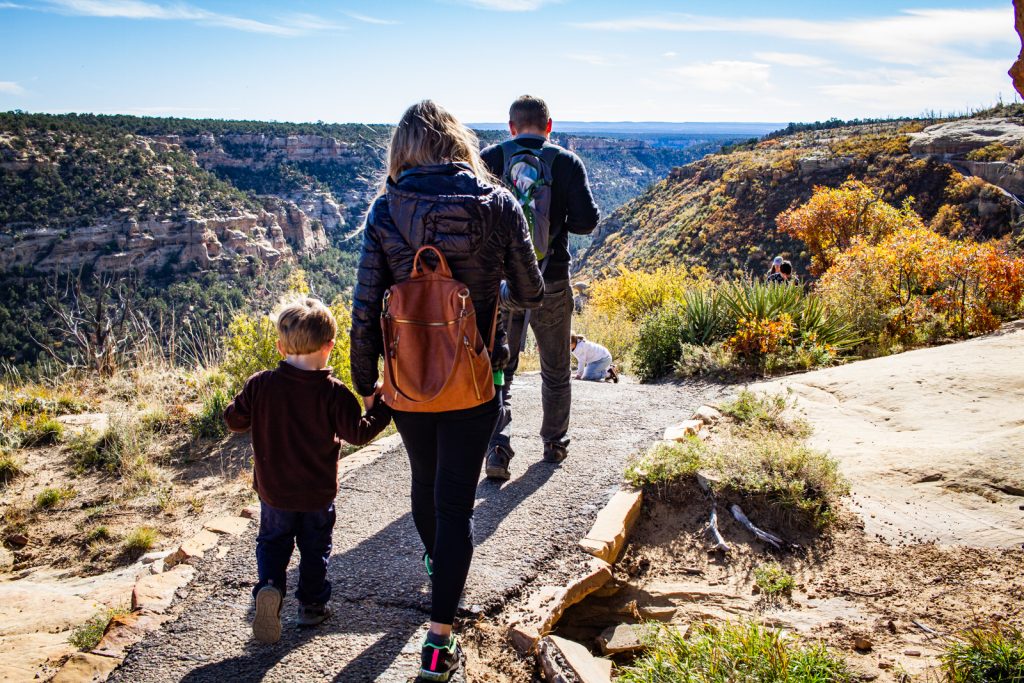 Spruce Tree Terrace Cafe right in the park is a convenient place to grab lunch and take a break.
Opt for one more family hike or bike at Sand Canyon (a bit more advanced than Boggy Draw if you are considering wheels rather than sneakers) to really tucker the kids out and see more beautiful rock structures and ancient heritage before you pile back in the car and head for home!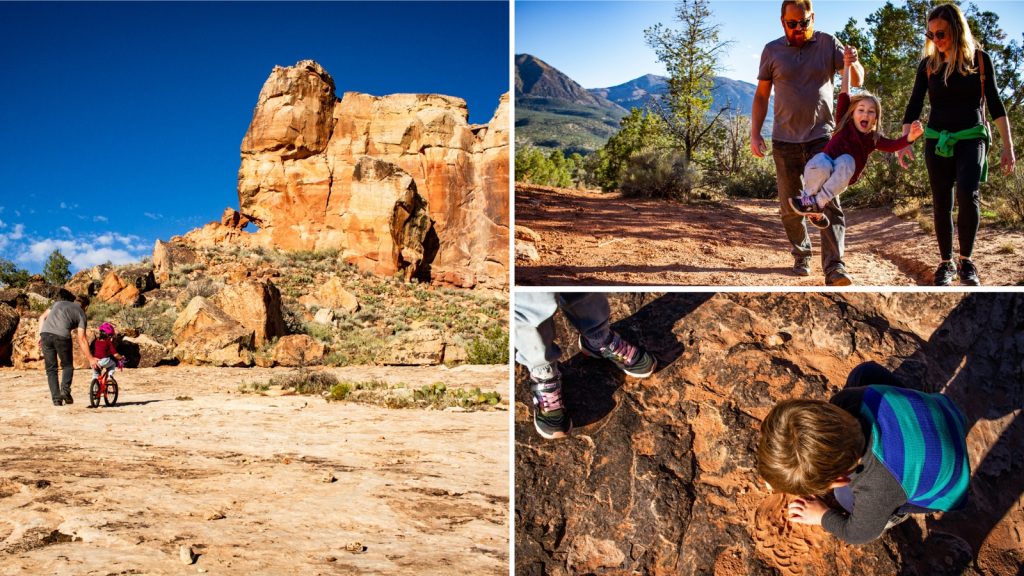 Remember, the kids didn't have to understand the whole history of sites like Cliff Palace or Lowry Pueblo to appreciate and remember them. Places like these throughout Mesa Verde Country are unique enough to capture the attention and imagination of young visitors.