By Kassia Lawrence
The crisp smell of piñon pines, juniper and sage float through the air as a slight breeze rustles through the desert foliage. Stars twinkle overhead and you can hear the wing beat of a raven as it flies through the dark sky above you. Nearby, an outline of ancient Ancestral Puebloan structures are visible through the starlight and the world feels still and peaceful. Stargaze among ancient dwellings for a unique, thought-provoking experience on your next trip to Mesa Verde Country.
The night skies over Hovenweep National Monument, Canyons of the Ancients National Monument and Mesa Verde National Park are some of the darkest in the country. Because of this, they offer incredible stargazing opportunities year round.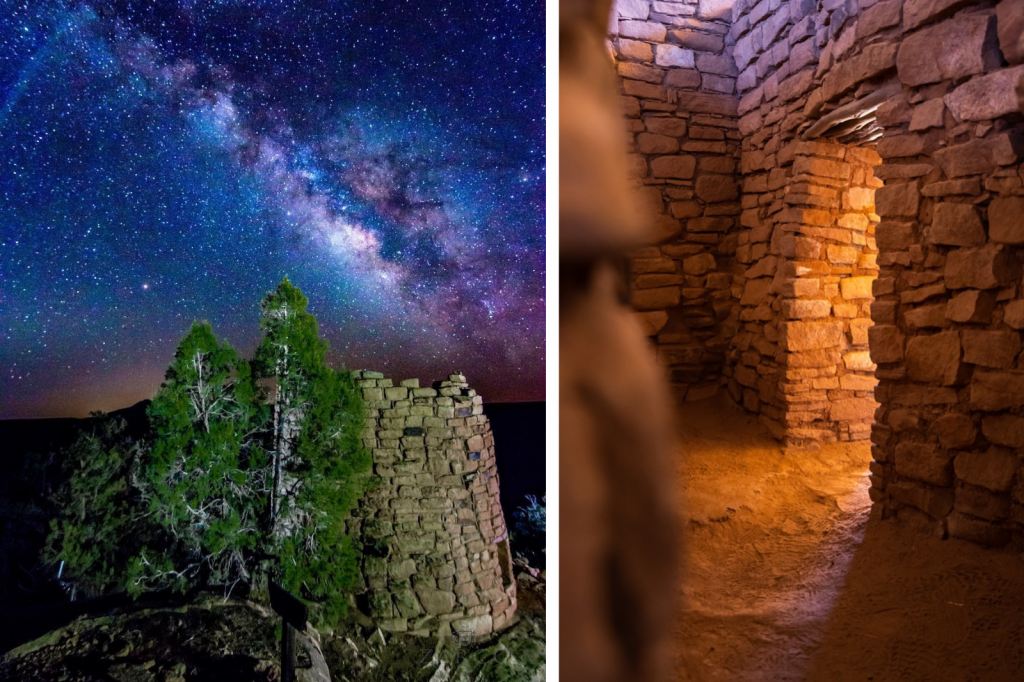 Canyons of the Ancients National Monument
A vast stretch of land 12 miles west of Mesa Verde National Park, Canyons of the Ancients National Monument contains the highest known archaeological site density in the United States. We encourage you to stop by the Visitor Center and Museum before you head to the Monument area. Grab a map and talk to a ranger about the best places to see dwellings, hike, and stargaze.
If you are interested in camping here, there are several dispersed backcountry campsites near the Sand Canyon Pueblo. There are also many trails in this area for night or daytime exploration. For a great astrophotography site, make sure to visit the Painted Hand Pueblo. This magnificent structure looks breathtaking against a starry night sky. Canyons of the Ancients tends to be a bit more rugged than neighboring Hovenweep and Mesa Verde. Because of this, we recommend exploring in the daylight first to find a good spot to set up! For Visitor Center and Museum hours and the best spots to stargaze among ancient dwellings, call (970) 882-5600 or click here.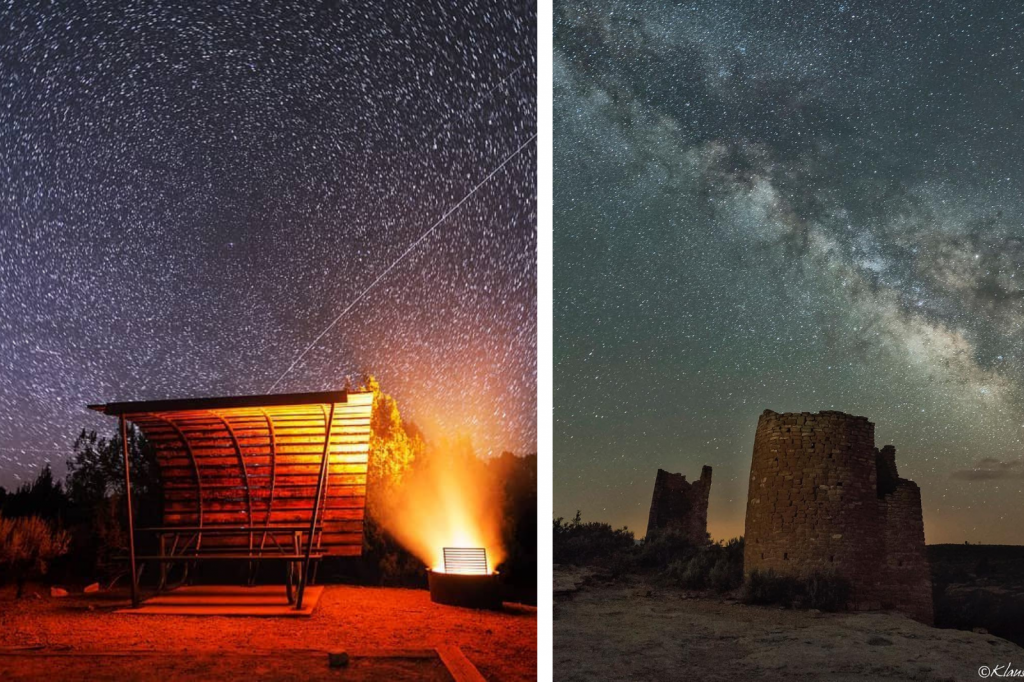 Hovenweep National Monument
Ancient and mysterious, the structures and rock art panels at Hovenweep National Monument appear to have been designed to mark major celestial events such as the summer and winter solstices. While there is no definite proof of this, it encourages visitors to take some time and absorb the beauty of the night sky. Hovenweep is the 17th International Dark Sky Park and here the skies are truly almost as dark as they were 800 years ago.
Here, the trails are only open from sunrise to sunset, but you can still stargaze from the visitor center parking lot as well as the campgrounds. From the parking lot you will be able to get to the overlook at Stronghold House (even after sunset) as well as an incredible view of Sleeping Ute Mountain. For a more in-depth version of this experience, there are ranger-led stargazing tours that are available during the summer. These tours will allow you to venture farther into the Monument after dark and to truly stargaze among ancient dwellings. For up-to-date information on stargazing tours, call (970) 562-4282 or click here.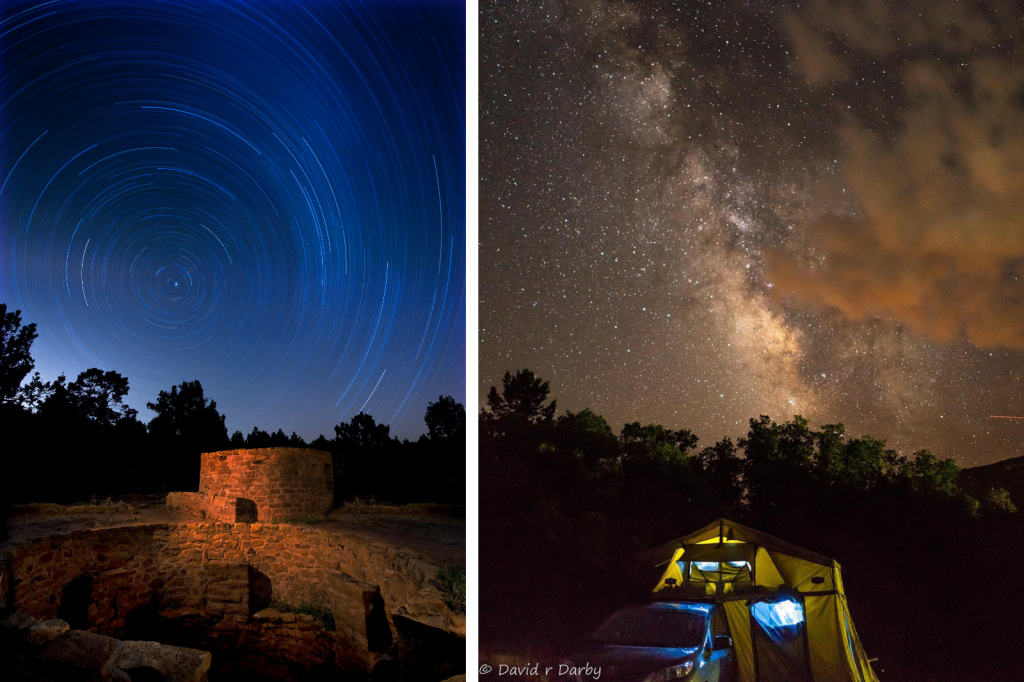 Mesa Verde National Park
Like Canyons of the Ancients and Hovenweep, the dark skies above Mesa Verde National Park haven't changed much since Ancestral Puebloans looked up at them hundreds of years ago. In 2021, Mesa Verde National Park was certified as the world's 100th International Dark Sky Park in an effort to protect and preserve the starry skies for generations to come. Since all archeological sites and trails are closed at night, the best spots to stargaze in the park are Morefield Campground and Far View Lodge. For more tips, check out our 3-day itinerary based around stargazing in Mesa Verde or these resources from the National Park Service.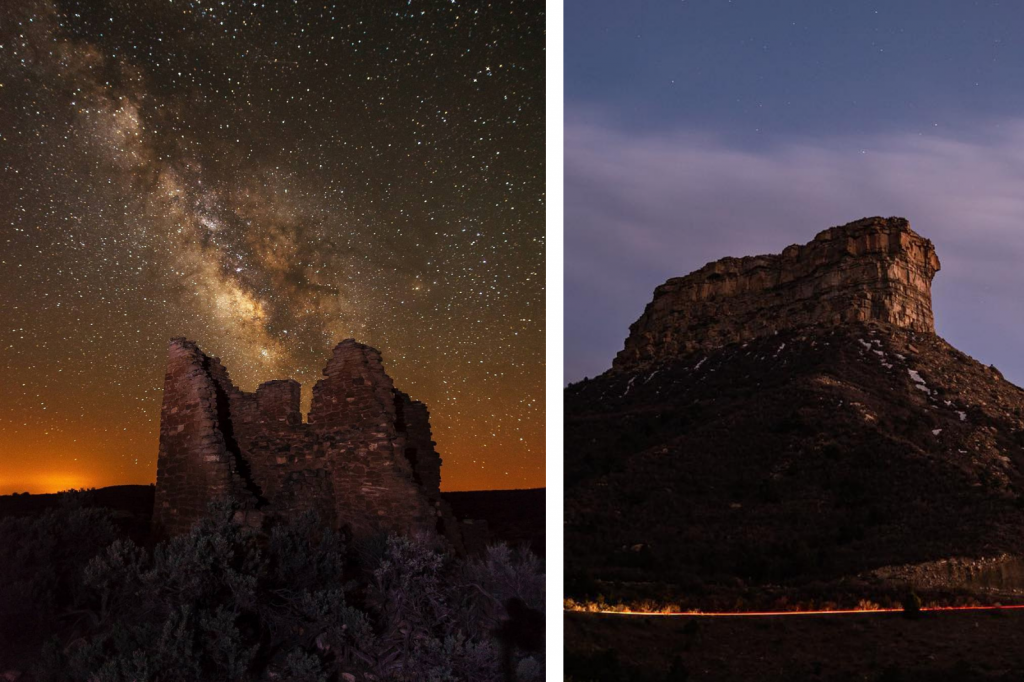 For the clearest views of the stars, we recommend enjoying these areas in the winter or early spring. Long nights mean more time to gaze, and cold air holds less hazy moisture, making for clearer conditions. Also, coming to visit during a new moon will help you spot the most stars. Make sure to bundle up, bring some lawn chairs, blankets, hot cocoa and a headlamp or flashlight!