Fishing in Colorado, Kayaking in Colorado, and much more
Although Southwestern Colorado enjoys four seasons, it's no secret that summer afternoons can be real scorchers. Cool off with these five ideas that have you fishing gold-medal waters, plunging into alpine hot springs, wielding water noodles, and more.
1. Fish the Gold Medal Dolores River
For those whose perfect weekend resembles strolling a peaceful riverbank in search of rises, look no further. The Dolores River not only winds through some of the most scenic mountain-scapes in the four corners region, but it delivers in terms of variety and excitement. You might also branch off to one of the many tributaries that join the Dolores, such as Stoner Creek or Bear Creek, as you cast for Colorado's most iconic trout including rainbow, brown, and native cutthroat. Just be sure to respect private property and follow all posted catch-and-release regulations. After a day well spent on the river, consider a stop in the town of Dolores where a frosty craft beer will quench any thirst.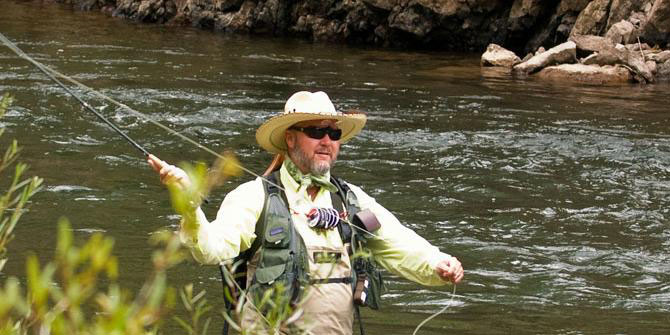 2. Soak in Ghost Town's Hot Springs
While taking a dip in a 106-degree Fahrenheit hot spring might not sound like a great way to cool off, no trip to Southwestern Colorado is complete without a visit to Dunton Hot Springs. Set in an 1800's ghost town, day visitors will enjoy a variety of ways to experience the healing powers of iron- and manganese-infused waters. Bathing in bicarbonate water is said to assist in opening peripheral blood vessels, therefore improving circulation and even promoting healthy skin. Plus, when paired with a hike in the surrounding mountains, it just feels darn good! Thinking of staying overnight? We don't blame you. Dunton has a number of romantic cabins to choose from and offers other activities such as horseback riding, rafting, climbing, fishing, and more to maximize your stay.
3. Discover the Only True Geyser in Colorado
Colorado is typically known for its mountain peaks, not its hydraulic oddities. But here in Mesa Verde Country, we have an exception. Located in the San Juan National Forest a short distance from Dunton Hot Springs, you'll find Colorado's only true geyser. Hike through a series of aspen groves uphill from the trailhead for 1.5 miles to your destination—a medium-sized pool of milky blue hue. This geyser "erupts" in what is really more like a series of gurgles and bubbles reliably every 30-40 minutes. We recommend packing a picnic lunch so you're sure to see the show! Bathing in the geyser is not advised, but the cool mountain breeze at 9,100-feet is sure to wick the moisture from your brow.
4. Cast for Kokanee, Walleye, and More at McPhee Reservoir
McPhee Reservoir is not only a wonderful place to spend an afternoon in SW Colorado; it's a great place to go fishing! As the second largest body of water in the state, the opportunities for both warm- and cold-water fishing abound. Cast for walleye year-round with no limit, and bag kokanee salmon between September 1 and December 31. Reel in a large- or small-mouth bass? If they're between 10 to 15 inches, toss them back in. For those who want to enjoy a whole day at McPhee, explore a number of hiking trails around the reservoir's perimeter. Trail #155 is a great place to soak in views of McPhee and peer below the water to search for the 1920's ghost town submerged beneath its surface. Of course, McPhee is a haven for other recreationalists as well! Kayak, stand-up paddleboard, or simply go for a swim to cool off on a hot day.
5. Let the Kids Loose at the Cortez Recreational Center
Tight on time, or looking for a convenient way to burn some energy? Take the kids (or those who act like them) to the pool at the Cortez Recreational Center, located in the heart of town. Chances are you'll take one look at the waterslides and wish you'd brought your trunks. Be sure to check out the climbing wall and outdoor playground during your visit, as well! Admission is a breeze: kids under the age of 4 get in free, 5 to 18 year-olds are $5, and adults are $6. After you've perfected your cannonball, you might also like to stretch your legs with a walk through the scenic and sociable Parque de Vida, located just outside the Rec Center's doors.