Located eight miles from the entrance to Mesa Verde National Park, many consider Cortez the cultural center of Mesa Verde Country. Strong agricultural traditions and Native American heritage characterize this town, located in the the valley that is shadowed by Mesa Verde. Ancient cliff dwellings, cowboys and farms mingle harmoniously below the surrounding mountains.
ARCHAEOLOGICAL CENTER OF AMERICA
Cortez was a part of the Old Spanish Trail—the route that connected northern New Mexico, California and southern Colorado starting in the late 16th century, and is still considered the trade center of the Four Corners region. Its culture is steeped in the ancient history of the indigenous people who still call this high desert valley home. See intricate artwork, artifacts and customs of the native people at the Cortez Cultural Center. And make Cortez your base camp for the 114-mile Trail of the Ancients scenic byway, that tours through natural wonders and archaeological points of interest.Locally sourced cuisine, Colorado wines and craft breweries mark the agricultural traditions that date back to the Ancestral Puebloans' cultivation here.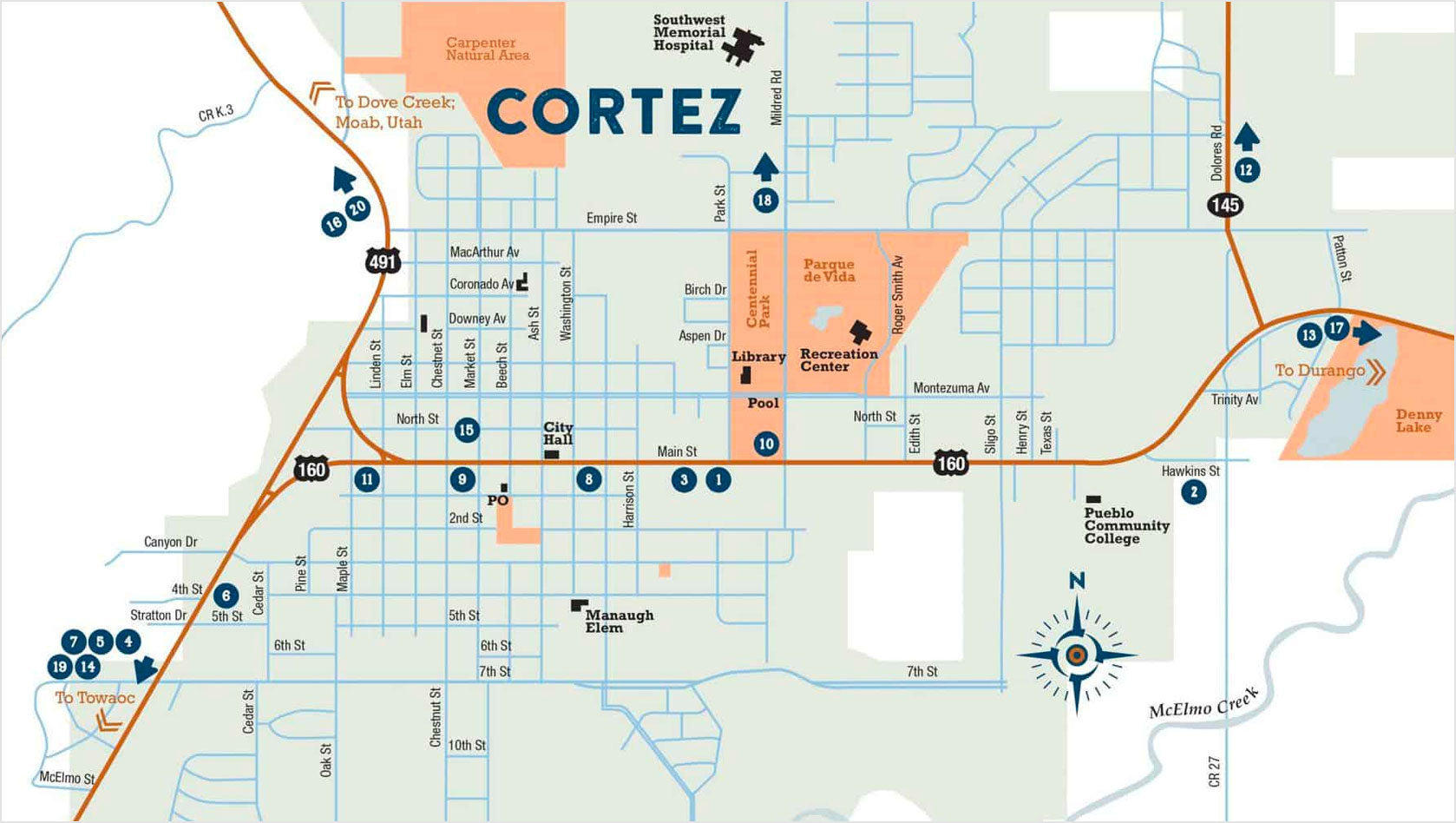 Heirloom and heritage corn, beans and squash have been raised in Cortez for centuries. What you see growing in the lush fields translates to the bounty in our local restaurants and weekly farmer's markets. With more than 600 acres of parks, trails, and open space there's plenty of room to play. To the north, you'll find Carpenter Natural Area with 176 acres and easy access to trails. To the south, visit the 122-acre Hawkins Preserve, where you can hike, bike, rock climb and star-gaze from the slick rock trails to the canyon edge overlooking McElmo Creek. Don't miss the excavated archaeological sites in the preserve. After a day making memories, settle in for the night at a cozy Cortez lodge, so you're well-rested when you begin the next day's adventures.
AMENITIES & SERVICES
Disc Golf Course
294 acres of parks, trails, and nature preserves
Hotels, Guest Ranches, Camping/RV
Restaurants
Shops
Vineyards
Breweries
Start planning your vacation to Mesa Verde Country with our free travel planner.